LED Lights for Off-Road Adventures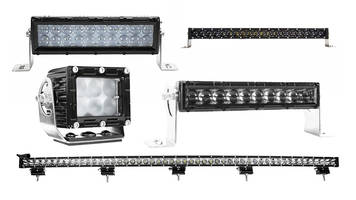 You may know Larson Electronics as a leader in the industrial lighting industry, and while many of our products are geared towards large scale professional applications, we also cater to consumers.
Our specialty line of consumer products feature: standard light bars, curved light bars, LED pods and spotlights particularly for buyers with trucks, UTVs, ATVs and other off-road vehicles.
Both our standard straight and curved LED light bars are designed for mounting on various vehicle types, and engineered to withstand the harsh environments of the rugged outdoors. The curved light bars have the ability to throw illumination over a wider area.
These light bars operate on common 12V and 24V and have IP67 waterproof ratings, making them ideal for hunting, fishing, and off-roading adventures after dark.
Our consumer line of LED pods and spotlights include standard versions and units with inline transformers and day/night sensors.
These pods and spotlights are a great addition to any equipment or vehicle used in law enforcement or industrial manufacturing applications, because they offer very versatile and powerful LED lighting solutions.
These lighting solutions shouldn't only be for large entities that can afford them, so we've designed the perfect, compact versions for you.
Click Here To Explore Our LED Light Bars (http://www.larsonelectronics.com/c-1056-consumer-line-led-light-bars.aspx?utm_source=icontact&utm_medium=email&utm_campaign=December-17-led-light-bars&utm_term=cta-button&utm_content=consumer-line-led-light-bars-category)
Explore more product categories below.
Explosion Proof Lighting
Power Distribution
Light Towers
String Lights
LED Lights
Explosion Proof Cameras
More from Test & Measurement