LED Lighting System targets channel letter signage.
Press Release Summary: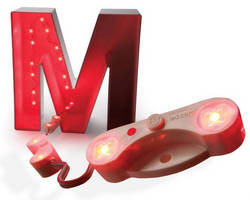 Tetra® MAX LED Lighting System is 2 LED module red system that operates at .99 W/sq ft and offers life of 50,000 hr. It utilizes single power supply, which is used for all colors and allows up to 54 ft for 2 LED module system and 80 ft for 3 LED system. Overmolded design keeps damaging moisture out to protect LED components from failure. Environmentally friendly, 12 V system is RoHS-compliant and UL-recognized.
---
Original Press Release:

New Energy-Saving GE Tetra® MAX LED Lighting System for Channel Letter Signage Maximizes Loading, Simplifies Installation



CLEVELAND - The new Tetra® MAX LED Lighting System from GE Consumer & Industrial's LED business, Lumination, LLC, improves energy efficiency and power supply loading compared with neon and other LED systems used in channel letter applications.

Its installer-friendly design and performance attributes in the two LED module red system at .99 watts per foot-up to 80 percent energy savings compared with neon and up to 135 percent more loading than other LED systems*-helped Tetra MAX become the fastest Lumination signage system to reach $1 million in sales.

Tetra MAX lights more LEDs from a single power supply. The same power supply is used for all colors and allows up to 54 feet for the two LED module system and 80 feet for the three LED module system. The ability to power more LED modules from a single supply reduces the total number of power supplies needed, and lowers costs associated with materials and installation labor.

Installation of a Tetra MAX LED system is simplified because it is comprised of fewer parts than other systems. The patent-pending, 12-volt design of Tetra MAX saves time and labor costs by reducing complex wiring and eliminating binning, dip switches and load balancing. The system uses off-the-shelf components such as wire and wire connectors for greater convenience.

"Tetra MAX builds on a tradition of performance that comes from supplying more than 57 million LEDs in Tetra products across the globe," says Ryan Rodau, global signage product manager, Lumination. "Tetra MAX offers GE quality plus great strides in energy efficiency, power supply loading and ease of installation. It's perfect for any business concerned about spiraling operating and maintenance costs."

Even Tetra MAX packaging has been improved with convenience in mind. Highly visible color markings have been added to the LED modules and product packages for instant recognition of the LED color. Easy-to-read labels on interior and exterior packaging make product identification faster than before. Plus, key product information is printed on all interior packaging trays for quick reference.

Tetra MAX was developed and tested using GE Six Sigma quality standards to ensure maximum reliability. An over-molded design keeps damaging moisture out to protect the LED components from failure, further ensuring GE reliability and long life. Tetra MAX was also designed with environmental responsibility in mind. It complies with RoHS and is UL recognized. The system also contains no lead, mercury or glass, so handling and disposal are easier.

With a life of up to 50,000 hours and excellent dependability, Tetra MAX delivers brilliant, uniform light to protect against unsightly dim or burned-out signs. Even in cold weather, the Tetra system keeps uniform light shining across the entire sign face, providing the reliability expected from a high-performance signage solution.

Rodau adds: "LED technology is transforming the signage industry and the new Tetra MAX LED Lighting System is at the front of that revolution."

About Lumination, LLC

Lumination, LLC, a subsidiary of General Electric Company, drives innovation, energy efficiency and cost savings for customers that use LED products, systems and solutions. Fitted with robust, low-voltage, long-life LED light engines, Lumination solutions deliver world-class, GE-grade performance. For more information, please visit www.led.com.

GE Consumer & Industrial spans the globe as an industry leader in major appliance, lighting and integrated industrial equipment, systems and services. Providing solutions for commercial, industrial and residential use in more than 100 countries, GE Consumer & Industrial uses innovative technologies and "ecomagination," a GE initiative to aggressively bring to market new technologies that help customers and consumers meet pressing environmental challenges, to deliver comfort, convenience and electrical protection and control. General Electric (NYSE: GE) brings imagination to work, selling products under the Monogram®, Profile(TM) GE®, Hotpoint®, SmartWater(TM) Reveal®, Edison(TM) and Energy Smart® consumer brands, and Entellisys(TM) industrial brand. For more information, consumers may visit www.ge.com.

More from Communication Systems & Equipment