LED Lighting Manufacturer Noribachi Launches Nori Grow Stand & Advocacy Program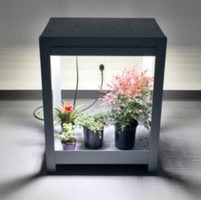 LOS ANGELES, JANUARY 05, 2018 - LED Full Spectrum by Noribachi announces the release of their new Nori Grow Stand and customer rewards program, "Norigrow Advocates." This advocacy program will encourage grow industry champions to become brand advocates by sharing information on Full Spectrum products on social media. Other incentives include redeeming free products and earning money through referrals.
LED Full Spectrum came to fruition after Noribachi accumulated 9 years of knowledge producing cutting edge LED technology for commercial use. Noribachi then decided to adapt LED's to the grow industry to create LED Full Spectrum grow lights. In addition to popular grow lights, Noribachi now announces a self-contained grow stand, which combines one of their most popular and brightest light engine tuned to optimal grow characteristics with an industrial aluminum housing to create the Nori Grow Stand.
D. McBrian from Green Facilities, a California Cannabis grower for over 20 years, has been using LED Full Spectrum grow lights to bring his plants from seed until separating, flowering, to bud harvest. "I just love the grow lights; the light intensity is insane and very bright. I love how it has low heat because I can't get my facility above 81F. The lights are well built and made in America. This is hands down one of the best grow lights out on the market. Our team is very excited about the Norigrow Advocates Program to bring in more revenue and expand our operation."
Byron Delaney, another happy grower, said that he was "very happy with my Noribachi industrial grade Element Fixture LED grow light. It has superb, custom-tailored full spectrum wavelength profiles that exactly match the needs of plants during all phases of growth without compromising the all-important bloom phase. I recommend the full spectrum + red option for optimal growth and bloom (or a mixture of all options). This is what I would consider red-enhanced full spectrum. All materials and technology are of the highest quality and extremely durable yet lightweight (due in part to the thick aluminum enclosure)."
Learn more about the Nori Grow Stand and the Norigrow Advocates by reaching out to norigrow@ledfullspectrum.com
LED Full Spectrum by Noribachi:
Noribachi is a leading U.S.-based technology company, focused on lighting digitalization, which develops and markets high output industrial LED lighting products. In the past two years, Noribachi has been named to the Inc. 5000, Inc. Magazine's list of the Fastest-Growing Private Companies in America, Forbes list of America's Most Promising Companies and the Los Angeles Business Journal's Fastest Growing Private Companies list. Noribachi has over 3,000 global customers, completed over 30,000 installations, and has sold over 3,000,000 products. For more information on LED Full Spectrum, visit https://www.ledfullspectrum.com/.
More from Fluid & Gas Flow Equipment