LED Lighting Controllers promote efficient operation.
Press Release Summary: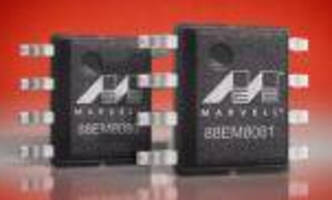 Marvell® 88EM8081 and 88EM8080 LED controllers can be used for range of solid-state lighting applications with output power ranges up to 150 W. In addition to analog circuitry, mixed-signal architecture includes DSP core and single-stage Power Factor Correction (PFC), allowing for addition of new features while lending to reliability and stability. It also enables adaptive feedback loop for optimized PFC level and minimal Total Harmonic Distortion (THD).
---
Original Press Release:

Marvell Introduces Innovative New LED Lighting Products Targeted at Residential and Commercial Applications



Company Leverages Expertise in Advanced Power Factor Correction, Mixed-Signal Processing and Wireless Networking to Deliver Mass Market Solutions for LED Driver Electronics and Networked Lighting Controls

SANTA CLARA, Calif. -- Marvell (NASDAQ: MRVL), a worldwide leader in integrated silicon solutions, today introduced the Company's first series of products for LED driver electronics - the Marvell® 88EM8080 family of high-performance, low-cost, and high-reliability controllers for LED lighting applications. The first products from this series, the Marvell 88EM8081 and 88EM8080 LED controllers can be used for a wide variety of solid state lighting applications with output power ranges up to 150W. These applications include, but are not limited to:

-- Incandescent and fluorescent bulb replacement
-- Traditional commercial lighting, retail signage and spotlights
-- Streetlights and parking lights
-- A variety of design influenced lighting scenarios including pendants, downlights, recessed lighting, floodlights, and pathway/marker illumination

According to Zel Diel, managing director at Venture-Q, a San Jose, California-based market research firm, the LED driver ICs market is expected to exhibit high growth rates in practically all market segments and applications. "Our driver IC market forecast for high-end lighting fixtures and signage applications shows an average compound annual growth rate of 62 percent, growing from about $100 million in 2008 to $1.1 billion in 2013," said Diel. "Global design trends that favor energy savings and minimal form factors are driving this market. The key success factor for companies competing in this rapidly evolving market is the timely introduction of products targeted at specific applications."

In addition to advanced analog circuitry for high efficiency, the Marvell 88EM8080 series' architecture includes an optimized DSP core to add new, unique features, and single stage Power Factor Correction (PFC) - enabling manufacturers to use fewer external components and significantly reduce the Bill of Materials (BOM) cost. This mixed-signal architecture is superior to traditional analog-only designs as it allows new features to be added quickly and enables a higher level of reliability and stability - critical to products such as LED lights which can last more than 50,000 hours. The Marvell 88EM8080 series also enables an adaptive feedback loop for a higher PFC level and much lower level of Total Harmonic Distortion (THD) for easier worldwide regulatory compliance, including Energy Star.

"Given the vast potential of digital LED technology in various lighting applications, manufacturers are looking to their semiconductor partners for designs that are highly efficient, and can easily add new, unique features not available with traditional lighting. Marvell has developed the 88EM8080 series to address the needs of customers and to meet the mass market opportunities afforded by LED lighting technology," said Kishore Manghnani, Vice President of Green Technology Products at Marvell Semiconductor, Inc. "Our extensive experience in mixed-signal design, networking, wireless, PFC and digital technologies enables us to create new, innovative networking control capabilities that lighting OEMs want for digital LED systems today and in the future."

Marvell is currently sampling reference designs based on the 88EM8080 series and a companion wireless lighting control platform for a variety of lighting fixtures such as PAR20, PAR30, PAR38, R20, R30, R38 and T8 to major lighting OEMs. These designs range from 5W to 100W and are targeted at residential, commercial and outdoor applications. The Company will showcase these reference designs at the Strategies in Light Conference in Santa Clara, CA September 10-12. The Company will also showcase wireless-based lighting and thermostat controls for remote home automation.

About Marvell

Marvell (NASDAQ:MRVL) is a leader in the development of storage, communications, and consumer silicon solutions. The company's diverse product portfolio includes switching, transceiver, communications controller, wireless, and storage solutions that power the entire communications infrastructure including enterprise, metro, home, and storage networking. As used in this release, the terms "company" and "Marvell" refer to Marvell Technology Group Ltd. and its subsidiaries. For more information, visit http://www.marvell.com/?c=1,3,5

Marvell and the M logo are registered trademarks of Marvell or its affiliates. Other names and brands may be claimed as property of others.


More from Test & Measurement