LED Light Tubes deliver uniform light.
Press Release Summary: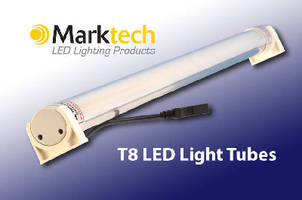 Suited for cove lighting, refrigeration, and retail displays, 24 V T8 LED Light Tubes distribute even light pattern of 180°, concentrating all light output onto surface being illuminated. Solid-state units illuminate with uniform 4,000 K neutral white light that leaves no hot spots or dark areas. Since no fixture or complicated wiring is needed, vibration- and shock-resistant tubes offer flexible solution for tight spaces.
---
Original Press Release:

Marktech LED Lighting Introduces T8 LED Light Tubes



Latham, NY - Marktech LED Lighting, a leading supplier of LED lighting products, introduces a T8 LED tube which can be incorporated in applications such as cove lighting, refrigeration and retail displays. This 24V T8 LED Light Tube distributes an even light pattern of 180º concentrating all of the light output onto the surface being illuminated. Unlike other LED light solutions on the market, the Marktech LED T8s illuminate with a uniform 4000K neutral white light that leaves no hot spots or dark areas. The long lifetimes associated with LED components virtually eliminate the need for maintenance while reducing power consumption 50% on average compared with traditional fluorescent bulbs.

For retail merchandise displays, these long lasting, vibration and shock resistant T8 tubes are a perfect light solution that will ensure a merchandiser's product will be properly illuminated throughout the life of the display. Since no fixture or complicated wiring is needed to illuminate these tubes, they offer a very flexible solution for lighting designers that will allow them to work in much tighter spaces. Used as a light source in cove lighting, this solid state lighting will offer
an end to the difficult maintenance problems often associated with hard to reach spaces.

LED lighting in refrigerated case lighting has a tremendous advantage over fluorescent lighting. LEDs inherently thrive in cold conditions and emit a constant light output as opposed to fluorescent bulbs which can dim as much as 30% in the same conditions. Low heat is another great benefit of LED lighting reducing the stress on the cooling components within the cooler unit. "Merchandisers and store owners will notice a distinct improvement in the display of their products because our LED T8s illuminate with a uniform white light that eliminates glare and shadowed areas," says Mark Campito, CEO of Marktech LED Lighting Products. "Shoppers will see a difference with the improved visibility of products." No UV or Mercury insures these T8 LED light tubes as a green solution for any lighting need. Marktech offers T8 lighting kits
designed for easy installation into supermarket reach-in coolers.

For more information on our T8 LED Light Tubes or the wide variety of LED lighting solutions we offer, please visit our website at www.marktechledlighting.com or contact us at 800.984.5337 to speak with a Technical Sales Representative.

Contact: Carrah Daley

Marktech Optoelectronics

3 Northway Lane North

Latham, New York 12110

Web Site: www.marktechopto.com

Email: c.daley@marktechopto.com

Phone: 800.984.5337

Fax: 518.785.4725

About Marktech LED Lighting Products

With over 25 years of LED industry experience, Marktech LED Lighting is pleased to offer the next generation of energy-efficient lighting for home, office or business use. Marktech specializes in providing solutions for challenging lighting designs by offering the best possible selection of high quality, high-brightness LED lighting products at the best possible prices. We offer a variety of LED lighting products and fixtures that can directly replace existing incandescent, fluorescent and halogen bulbs in household and commercial lighting. In this way we hope to encourage widespread use of LEDs to save energy, save money, and provide better lighting solutions for a greener tomorrow. For additional information on our complete line of LED Lighting products contact Marktech LED Lighting at 3 Northway Lane North, Latham, NY 12110. Phone: 800.984.5337, FAX: 518.785.4725, email: info@marktechledlighting.com. Website: www.marktechledlighting.com.

More from Electronic Components & Devices