LED Light Strip Modules are sealed and weather-resistant.
Press Release Summary: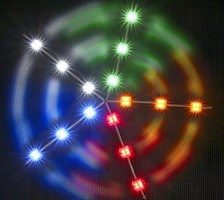 Used alone or in quantities of up to 100 units, StringLED Series STP301S Backlight LED Modules feature impermeable construction and insulated wires. Each module measures 1.17 x 0.90 x 0.50 in. and fastens to surface with double-sided tape or 2 screws. Individual modules contain 4 super-bright, wide-angle SpiderLEDs, available in Green (525 nm, 2,000 mcd), White (7,000 K, 1,300 mcd), Blue (470 nm, 550 mcd), Yellow (592 nm, 800 mcd), and Red (636 nm, 750 mcd).
---
Original Press Release:

New Super Intensity Sealed Backlight LED Modules Deliver Incredible Brightness and Flexibility.



TORRANCE, CA - March 17, 2006 - LEDtronics® announces StringLED Series STP301S Super Intensity Backlight LED Modules, a new addition to its line of module LED light strips. StringLED modules are easy to configure and may be employed for countless proposes such as lighting channel and reverse-channel letters, signs, displays, under-the-counter lighting, architectural applications, emergency exit lighting and entertainment venues. StringLED modules eliminate many of the shortcomings of neon or fluorescent lamps such as heat, broken tubes and ballast failures. Modules may be used alone or in quantities of up to 100 units. Each StringLED module contains four sealed super-bright, wide-angle SpiderLEDs to produce vivid illumination. Colors available are Green (525nm, 2000mcd), White (7000K, 1300mcd), Blue (470nm, 550mcd), Yellow 592nm(800mcd) and Red (636nm, 750mcd). Module dimensions are 1.17"L x 0.90"W x 0.50"H (29.70mm x 22.80mm x 12.40mm).

Sealed weather-resistant construction makes these lights suitable for indoor and outdoor applications. The impermeable construction and insulated wires prevent moisture and dust from entering the housing and affecting the electronics. The hard-wired connection between LED modules results in outstanding reliability in outdoor applications. StringLED modules are easy to install. Each module may be fastened to a surface with either double-sided tape or with two screws per module. Mounting hardware is not included. StringLED comes standard in 12V DC and requires a 12V regulated power source.

Solid-state design renders LEDs impervious to shock, vibration, frequent switching and environmental extremes. With an average life span of 100,000-plus hours (11 years), LED lamps operate more than 20 times longer than the equivalent incandescent lamp! Savings from reduced maintenance costs and downtime quickly return the capital investment expenditure! LED lamps produce almost no heat and require 80% - 90% less operating power than equivalent incandescents, making them as friendly to the environment as they are to the operating budget.

Founded in 1983, LEDtronics® leads where others only follow when it comes to designing, manufacturing and packaging state-of-the-art LEDs to meet the world's constantly changing lighting needs. Our inventive product line encompasses an array of direct incandescent lamp replacement Based LEDs, low-cost snap-in and relampable Panel Mount LEDs, high intensity sunlight-visible Discrete LEDs, PCB LEDs circuit board status indicators, surface mount diodes SMT LEDs, full-spectrum rainbow RGB LEDs and Infra-Red (IR) LEDs.

Prices for Super Intensity Sealed Backlight StringLED LED Modules range from $3.59 - $4.79 each, 50 module (5 meters) minimum, depending on the LED color. Large quantity discounts are available. Availability is stock to 4 - 6 weeks for special requirements. StringLED modules carry a 1-year limited warranty. For additional information on how to incorporate StringLED modules into your product designs, contact LEDtronics toll free at 1-800-579-4875, telephone 310-534-1505, fax at 310-534-1424, e-mail at webmaster@ledtronics.com or mail at LEDtronics Inc., 23105 Kashiwa Court, Torrance, CA 90505. Ask for datasheet log 187c. Visit our website at ledtronics.com.

Read the datasheet online at http://ledtronics.com/ds/STP301S/default.asp

For Technical Information Contact:
Jordon Papanier at 310-534-1505
E-Mail: jpapanier@ledtronics.com

More from Agricultural & Farming Products