LED Light Fixtures are designed for low ceiling areas.
Press Release Summary: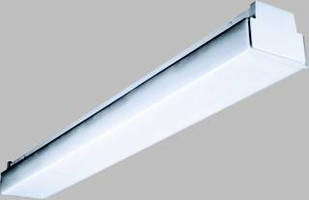 LWC Premium Wraparound, LPT Premium Lensed Striplight, and LRO Lensed Striplight seamlessly illuminate areas with lower ceilings. Able to be surface mounted or suspended, fixtures are all available in 3500K and 4000K color temperatures, have CRI of 82, and are offered with optional, factory-installed, 1,400 lm battery pack. While nominal lumen packages for LWC are 2,400–4,700 lm with up to 96 lpw efficacy, LPT and LRO offer 8 lumen packages from 2,700–19,200 lm with up to 106 lpw efficacy.
---
Original Press Release:

Columbia Lighting Delivers Perfect Illumination in Low Ceiling Areas with New LED Wraparound and Lensed Striplight Fixtures



Greenville, SC – With lighting design flexibility in mind, Hubbell Lighting launched today three new LED fixtures from Columbia Lighting—the LWC Premium Wraparound, LPT Premium Lensed Striplight and LRO Lensed Striplight. The company's new energy efficient fixtures seamlessly illuminate kitchen or dining areas, work or utility spaces, hallways, restrooms, and other areas with lower ceilings.



Setting the new performance standard, Columbia Lighting's LWC Premium Wraparound fixture is available in lumen packages ranging from 2,400 to 4,700 nominal lumens with an efficacy up to 96 LPW—exceeding current products on the market today. Plus, the LWC is designed with an attractive acrylic prismatic lens and overlay to provide smooth LED lighting without pixelation. Combined with softly glowing ends, these features make the LWC a uniquely practical and attractive wraparound. Available in 2' or 4' lengths, the LWC delivers 50,000 hours of illumination at L80 and features a high-efficiency driver with options for 0-10V continuous dimming, step dimming, and fixed on/off. Heavy gauge steel housing gives the luminaire rigidity. The LED light engine is accessible and replaceable for future maintenance or upgrades.



Columbia Lighting's LPT Premium Lensed Striplight matches the LWC (LED) and WC (fluorescent) in appearance and is the perfect replacement for outdated fluorescent fixtures. Equivalent to the LPT in performance, the company's LRO Lensed Striplight is the design match for Columbia lighting's LAW (LED) and AWN (fluorescent) fixtures. Both the LPT and LRO are available in 4' and 8' lengths, in eight lumen packages (2,700, 5,000, 6,400, and 9,600, 5,400, 10,000, 12,800 and 19,200), and are rated for 50,000 hours at L80 lumen maintenance. A solid-state driver provides options for 0-10V continuous dimming, step dimming, and fixed on/off. With up to 106 LPW, the LPT and LRO far exceed the efficacy of similar lensed striplights on the market today.



All three of Columbia Lighting's new LED fixtures are available in multiple color temperatures (3500K and 4000K), can be surface mounted or suspended, provide excellent color rendering (82 CRI), are offered with an optional 1,400 lumen battery pack factory installed, and come standard with a five-year warranty.



To learn more about Columbia Lighting's LWC Wraparound, LPT Premium Lensed Striplight and LRO Lensed Striplight, please visit http://www.columbialighting.com/. Also, follow Columbia Lighting on Twitter and Facebook.



About Hubbell Lighting

Hubbell Lighting is one of the largest lighting fixture manufacturers in North America. The company provides a full range of indoor and outdoor lighting products serving the commercial, industrial, institutional, and residential markets. Hubbell Lighting brands include Alera Lighting, Architectural Area Lighting, Beacon Products, Columbia Lighting, Compass Products, Devine Lighting, Dual-Lite, HomeStyle Lighting, Hubbell Building Automation, Hubbell Industrial Lighting, Hubbell Outdoor Lighting, Kim Lighting, Kurt Versen, Prescolite, Progress Lighting, Security Lighting, Spaulding Lighting, Sportsliter Solutions, Sterner Lighting Systems, Thomasville Lighting, and Whiteway. Hubbell Lighting: one name, distinctive brands, limitless lighting possibilities. For additional information, please visit www.hubbelllighting.com and follow Hubbell Lighting on YouTube, Twitter and Facebook.



Hubbell Lighting Media Contact:

Andy Beck

Makovsky

abeck@makovsky.com

202-587-5634

More from Electronic Components & Devices