LED Light Engines offer plug-and-play optics and connectors.
Press Release Summary: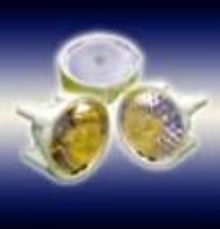 Series BL-4000 LED Light Engines are available with optics in 10-15°, 30°, and 45° beam distributions. Each optic features software-optimized aspheric profile combined with front-shaped micro lens. Collection efficiency reaches 85% of total flux generated by light engines, with holder providing proper relative placement between lens and light engine. EZConnect boards are available separate or soldered to light engines and have connector attached.
---
Original Press Release:

Lamina Ceramics Unveils New Optics and Connectors


Fraen lenses, optic holders and new EZ Connector provide "plug-and-play" capability to award-winning LED light engines

WESTAMPTON, NJ - July 5, 2005 - Lamina Ceramics, Inc. today announced a new "plug-and-play," optics and no-solder installation system for its BL-4000 line of super bright, high power LED light engines. Working with Fraen Corporation, the world's leader in focusing light from high-powered light emitting diodes (LEDs), Lamina unveiled optics in narrow, medium and wide beam distributions. The optics and holders, and solder-less "EZ Connect" attachment board and wire harness will be supplied through Lamina's global distribution network. The system makes it very easy for designers and engineers to incorporate Lamina's latest international award-winning LED light engines into their products.

"We have listened to our customers and have created a complete plug-and-play LED light engine system," said Taylor Adair, Lamina Ceramics' president and CEO. "Our new high efficiency optics and holders provided by Fraen - along with our EZ connector and wiring harness - make assembly and electrical connections for the BL-4000 series easier than ever."

Jim Anderson, Lamina's vice president of marketing, noted enthusiasm by the lighting industry for the BL-4000 line coupled with customer demand for easy connectivity and a versatile optical system sparked the partnership with Fraen Corporation. "We designed into our BL-4000 LED light engines superior compatibility with emerging industry standards for drivers and optics," noted Mr. Anderson. "Now, Fraen has done outstanding quality work in designing and manufacturing high efficiency optics and holders. Plus, our EZConnect boards are available separate or soldered to our BL-4000 RGB+ and white light engines and have a connector attached. It's a total lighting system with no soldering required."

The Fraen optics are available in narrow (10-15 deg.), medium (30 deg.) and wide (45 deg.) beam distributions. Each features a software-optimized aspheric profile combined with a front-shaped micro lens. The high collection efficiency reaches 85% of the total flux generated by BL-4000 light engines, with the holder providing the proper relative placement between the lens and light engine.

"Fraen was very excited when approached by Lamina Ceramics regarding the need for optics and optical assemblies for their new super bright high-powered LEDs," said Scott Grzenda, Sales Manager, North America for Fraen Corporation. "Lamina's LED technology compliments Fraen's core competence of developing high efficiency optical solutions. The result is an established partnership designed to support the vast-growing demands within the industry."

The optics are assembled in holders which are designed to attach to Lamina's new EZConnect attachment board using epoxy or silicone adhesive, making assembly and electrical connections easier than ever. BL-4000 light engines are designed for popular drive currents, feature integrated protection from electrostatic discharge (ESD), and an isolated metal base.

Lamina introduced the BL-4000 line of LED light engines in May. Smaller than a U.S. nickel, the round footprint of the 120-lumen LED arrays results in a less complex optic design, providing greater compatibility with a wider variety of luminaires. These tiny but powerful light engines can be used individually, or chained together in series or parallel circuits.

The RGB (red-green-blue) model in this series, capable of producing any of 16 million blended colors - including white - was awarded "Best Technical Innovation," a top honor, and was also judged "Best New LED Product" at LightFair International 2005, the world's largest architectural and commercial lighting trade show and conference. Its three color channels can be independently controlled, mixed and are fully-dimmable. The BL-4000 RGB+ also has scores of applications in architectural lighting, signaling and signage.

The BL-4000 white light engine provides a daylight color temperature of 5,550°K with a color rendition index (CRI) of 78, rivaling the quality of natural sunlight. Also fully-dimmable, it is extremely long-lived, and is therefore suitable for many architectural lighting applications, desk/task lamps and machine vision, as well as for flashlights.

Lamina's market leading Aterion LED light engines are the world record-holders for brightness. In October 2004 and again last February, Lamina set two successive records with its Aterion LED light engines in RGB and white - the brightest LED arrays ever produced - at 13,300 and 28,000 lumens, respectively.

Lamina's LED arrays are manufactured by combining high brightness LEDs from industry-leading LED manufacturers with Lamina's proprietary packaging technology, multilayer low temperature co-fired ceramic-on-metal (LTCC-M). LTCC-M is a breakthrough in thermal performance for LED packaging technology, a key factor in determining LED life and reliability. Unmatched thermal performance coupled with package interconnectivity allows Lamina to densely cluster multiple LEDs to achieve exceptionally high luminous intensity in very small footprints. Other Lamina arrays are available in white, RGB and monochrome, up to 100W, and also in custom packages up to 1000W.

About Lamina Ceramics, Inc.
Founded in 2001, Lamina Ceramics defines the state of technology in the development and manufacture of super-bright LED arrays. Lamina's LED packaging technology and design with its proprietary multi-layer ceramic on metal packaging provides unsurpassed thermal management and interconnectivity. Lamina's technology was twelve years in development by Sarnoff Corporation.

Lamina Ceramics is headquartered in Westampton, New Jersey, USA, (between Princeton and Philadelphia) and occupies a 50,000-square-foot state-of-the-art, automated manufacturing facility. The Lamina team consists of industry-seasoned engineering and production personnel dedicated to designing and building long-lasting light engines to exacting specifications. Lamina is supported by an industry leading global sales and distribution network. Its investors include Morgenthaler Ventures, Granite Global Ventures, SpaceVest, Sarnoff Corporation and Kemet Electronics Corporation.
LaminaCeramics.com

More from Architectural & Civil Engineering Products