LED Light Boxes support outdoor marketing messages.
Press Release Summary: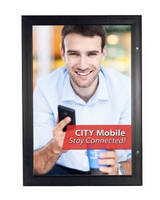 Available in both black and silver finishes with graphic sizes of 24 x 36 and 36 x 48 in., Outdoor LED Light Boxes can be used either vertically or horizontally, ensuring every advertisement has professional look. Weather-resistant aluminum frame and waterproof light panel are designed for year-round use and will withstand range of environmental conditions. By adding dual locking system, boxes can be positioned in wide range of locations including remote and high traffic areas.
---
Original Press Release:

POP Display and Sign Announces Cutting-Edge Outdoor LED Light Boxes



Through its new Outdoor LED Light Box, POP Display and Sign now offers an affordable option for outdoor marketing messages. The high quality construction and sleek modern design of this product ensures that it is a perfect fit for retail, educational, hospitality and other environments where key marketing messages need to be seen.



CARSON, Calif., -- Industry advertising and signage company POP Display and Sign announced today the launch of their attention grabbing and affordable Outdoor LED Light Box with pricing starting at under $650.  These light boxes feature white LED illumination that is bright enough for outdoor use, yet simultaneously is extremely energy efficient.  POP Display and Sign's Outdoor LED Light Boxes offer considerable energy savings, as they use a mere fraction of comparable fluorescent lighting options.  The end result is a vivid light box that will be noticed whether it is placed indoors or outdoors.  By prominently showcasing their branding and/or marketing message, businesses can significantly raise their profile and boost profits.  Visit http://www.popdisplayandsign.com/outdoor-light-boxes/outdoor-LED-light-boxes for product details.



The functionality and cost saving benefits of POP Display and Sign's Outdoor LED Light Box combines with industry leading styling.  The sleek and distinctly modern appearance of the Outdoor LED Light Box comes in both black and silver finishes, ensuring that every advertisement will have a professional and high-end look and feel.  Two graphic sizes are available: 24"x36" and 36"x48," and the product can be used either vertically or horizontally.



Durability is a key part of the POP Display and Sign approach, and this is reflected in the highly durable and rugged construction of the Outdoor LED Light Box, which comes with a one year warranty.  The weather resistant aluminum frame and waterproof light panel are designed for year round use and will withstand a range of environmental conditions.



Safety and security are key features of POP Display and Sign's Outdoor LED Light Box.  Advertising graphics are securely held in place until they are changed.  The addition of a rugged and reliable dual locking system means that the Outdoor LED Light Box can be positioned in a wide range of locations including remote and high traffic locations.  The secure and durable design of POP Display and Sign's Outdoor LED Light Box dramatically reduces such problems as vandalism and theft.



For more information on POP Display and Sign, visit www.popdisplayandsign.com.



About POP Display and Sign

A one-stop e-commerce site offering superior point-of-purchase signs and displays at an affordable price, POP Display and Sign is dedicated to helping entrepreneurs, shopkeepers and small businesses across the country promote their offerings and attract customers.  Products include indoor light boxes, LED signs and sign boards, poster frames and countertop holders.



CONTACT: M. Provost, sales@popdisplayandsign.com,  855-900-1372

Related