LED Light Bar offers selectable blue/white output.
Press Release Summary: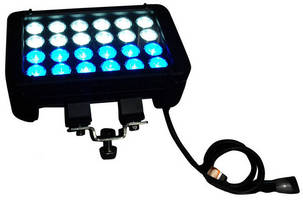 Supplied in aluminum housing with unbreakable polycarbonate lens, LEDLB-24E-VISBLUE features 4 rows of Cree® EZBright emitters and 2 input leads. Latter lets operators connect unit to multi-position switch to produce blue or white light independently or in combination. IP68-rated waterproof to 3 m, light bar can be connected to dimmers or pulse controllers, operates from 9–32 Vdc and over -40 to 85°C range, and incorporates LED drivers with PWM technology.
---
Original Press Release:

Releasing a Dual Color LED Light Bar with Blue and White Output from LarsonElectronics.com



LarsonElectronics.com has announced today the release of a high power LED light bar designed to provide blue or white light output. Featuring IP68 rated waterproof construction and the capability of producing blue or white light output or a combination of both, the LEDLB-24E-VISBLUE LED Light Bar is ideal for operators who require a light source that can serve in multiple applications.



The LEDLB-24E-VISBLUE LED light bar from Larson Electronics provides the versatility of high powered dual color output in a fixture designed to withstand operation in extreme conditions. This powerful LED light features four rows of Cree EZBright emitters, two rows producing blue light output and two rows producing white. Two input leads allow operators to connect this unit to a multi-position switch, giving them the ability to run either the blue or white LEDs alone or in combination. This dual color capability is ideal for operators who need a light that can be utilized in dual roles as a general illumination lamp or for hunting, tracking, or signaling purposes as well. When connected to a multi-position switch, operators can control operation from within vehicles and easily switch operating modes as desired on the fly. The housings on these LED lights are constructed of heavy gauge aluminum with an unbreakable polycarbonate lens for extreme durability. They are IP68 rated waterproof to 3 meters, making them impervious to the effects of rain and wetness, and can withstand extremes of temperatures from  -40 degrees Celsius to 85 degrees Celsius without fogging or condensation buildup. The LED drivers contained within these high output lights incorporate pulse width modulation technology which allows them to actively monitor and control input voltages and heat, providing maximum light output while preserving LED longevity. These lamps can operate with voltages between 9 and 32 volts DC and also be connected to dimmers or pulse controllers, allowing the operator to adjust brightness or cause the lights to flash or strobe if desired. The lamps are mounted via an included stainless steel U-bracket and stud which provides secure installation and the ability to adjust vertical position once mounted. Wiring is through two pig tails fitted with two Deutsch IPD / LADD DT04-2P connectors, providing easy and secure connections. The LEDLB-24E-VISBLUE is ideal for a wide range of applications including security, law enforcement, military and marine applications, and provides a versatile and convenient way for operators to produce blue colored illumination on demand without having to install additional light fixtures.



"The LEDLB-24E-VISBLUE LED light bar provides separate power controls for the blue light output and white light output," said Rob Bresnahan with Magnalight.com. "Blue has become the new red for low light applications, since medical support personnel can distinguish blood more easily in the blue light.  Whether operators use blue or red light for their low light operations, all of the Larson Electronics color light producing LED lights will work with standard or PWM dimming modules, enabling operators to control the light intensity."



Larson Electronics produces a full range of industrial and commercial lighting equipment, LED work lights, portable LED lights, LED light towers, and LED boat lights. To view the entire Larson Electronics line of industrial grade lighting solutions, visit them on the web at Larsonelectronics.com. You can also call 1-800-369-6671 to learn more about all of Larson Electronics' lighting products or call 1-214-616-6180 for international inquires.

More from Electrical Equipment & Systems