LED Lamps provide passenger-cabin reading light.
Press Release Summary: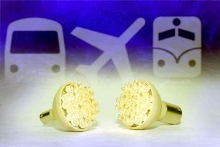 Models BSD1890 and BSD1888 offer drop-in replacements for incandescent lamp Nos. 2232 and 2266 and halogen lamp No. 0201789-001, which are used in 28 V reading light fixtures in airplane cabinets, passenger trains, and coach buses. Available in 9 and 15 mm single-contact bayonet bases, units do not require modifications prior to installation. Each features 28 warm white 5 mm LEDs and draws 1.5-2.0 W.
---
Original Press Release:

Drop-in Replacement LED Lamps for Incandescent #2232, #2266 and Halogen #0201789-001 Lamps for Passenger-Cabin Reading Lights


TORRANCE, CA - May 6, 2005 - LEDtronics Inc. introduces drop-in replacements BSD1890 and BSD1888 LED Passenger Reading Lamps for incandescent lamps #2232, #2266 and halogen lamp #0201789-001 that are used in 28V reading light fixtures in airplane cabins, passenger trains and coach buses. These energy-efficient and long-lived illuminators are available in 9mm and 15mm single-contact bayonet bases and don't require modifications prior to installation. Each model features 28 warm white 5mm LEDs (4500K). They only draw between 1.5 and 2.0W compared with 18W and 21W for GE's incandescent #2232 and #2266 respectively.

The BSD1890/1888 LED lamps also reduce the chance of getting burned from a hot bulb and fixture since LEDs create little heat so the bulb and fixture remain at nearly room temperature. The compact and bright BSD1890/888 offer designers an avenue to simplify installation, to improve lighting system reliability, and to create innovative light designs. BSD1890/1888 lamps can be used as reading lamps, chart lamps and task lights in limousines, coach buses, train compartments, and motor homes. Series BSD1890/1888 LED lamps are 28V standard. Airplane, bus and train manufacturers, design engineers and maintenance crews will find these lights to be excellent solutions for maintenance-intensive and low-voltage applications. Lamps carry a 3-year limited warranty.

Read the complete press release and down load the product picture at: http://ledtronics.com/pages/pr_050605.htm

Mr. Jordon P. Papanier
Marketing Manager
LEDtronics, Inc.
23105 Kashiwa CT
Torrance, CA, 90505
800-579-4875
Fax: 310-534-1424
Phone: 310-534-1505 EX: 120
Web: ledtronics.com
E-Mail: jpapanier@ledtronics.com

More from Agricultural & Farming Products