LED Illuminator enhances gun-mounted scope range.
Press Release Summary: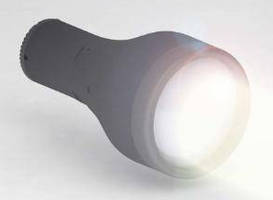 Designed for use with gun-mounted scopes, RLT LED illuminator uses Recycling Light Technology (RLT™) passive component technology that increases useable light output of conventional LEDs by collecting high angle LED-generated light and redirecting it into compact beam. Platform can be used with colored LEDs as well as white, and brightness increases effective range for shooter without visible speckles associated with traditional laser products. ANSI beam distance is 1,700 m.
---
Original Press Release:

Ultra Long Range LED Illuminator Released by Wavien, Inc. for Use with Gun Mounted Scopes



Special RLT™ Technology outperforms Laser Gun Sight Illuminators



VALENCIA, Calif. -- Wavien, Inc. announces the availability of an ultra long range LED illuminator, designed for use with gun-mounted scopes. This illuminator, using Wavien's patented RLT™ technology, produces over 5 times the brightness of laser driven illuminators. The result is greatly increased effective range for the shooter, without the "speckles" that are visible with traditional laser products. Wavien's RLT platform can be used with colored LEDs as well as white. The ANSI beam distance is an astounding 1700 meters.



Wavien's Recycling Light Technology (RLT™) system is a simple, cost-effective way to dramatically increase the brightness and efficiency of most LED products. "RLT is Wavien's Recycling Light Technology, a compact, low-cost, passive component technology that increases over 2.5 times the useable light output of conventional LEDs, by collecting high angle LED generated light, that would be wasted in conventional illumination systems, and redirecting it into a more compact, useful, and brighter beam. The usable LED light output is significantly boosted by the RLT reflector with no additional LED input power required and no change in LED lifetime," stated Dr. Kenneth Li, President and CEO of Wavien, Inc., who is also the inventor of the RLT technology. "Wavien is very pleased that RTL technology is able to out perform competing laser driven products with much lower cost, simplicity in design, and does not have to deal with laser safety related issues."



Prototypes are available for sale at the Wavien SHOP, www.wavien.com/shop, and the technology is available for licensing.



About Wavien, Inc.

Wavien, based in Valencia, California, is a technology licensing company developing long-life, advanced high-performance light source solutions including arc lamps, LEDs, lasers, laser/phosphor hybrids, and plasma lamps, for the next generation of projection and consumer lighting industries. Wavien continues to make major advancements in the LED illumination market with its recycling RLT technology.



RLT™ is registered trademarks of Wavien®, Inc.



For more information, please visit http://www.wavien.com



Contact Information:

Harry Farrar

Sales and Marketing

+1-661 294 2900 ex 210

Email

More from Architectural & Civil Engineering Products