LED Illuminated Switches suit front panel applications.
Press Release Summary: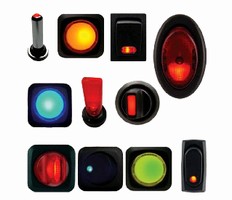 Chroma LED(TM) SPST Switches are available in variety of colors and styles. Offered with round and square bezels, push-button units are rated 3 A at 125 Vac and 1.5 A at 250 Vac. Rocker-style switches come in rectangular, round, oval, and square versions, in thread-mount or snap-in styles. Low-voltage units are rated 12 Vdc at 25 A, while power-line voltage models are rated 125/250 Vac at 16/10 A. Round and rectangular toggle-action switches are rated 30 A at 12 Vdc, 10 A at 125 Vac, and 6 A at 250 Vac.
---
Original Press Release:

Lumex Announces Its Chroma LED(TM) Family of LED-Illuminated Front-Panel Switches



PALATINE, IL--Lumex is announcing its Chroma LED(TM) family of switches for front-panel applications. These switches feature state-of-the-art LED illumination and are available in a wide range of colors and styles including toggle, rocker, and push-button. The sophisticated styling of these switches will enhance the appearance and visual appeal of any piece of electronic equipment into which they are mounted. Not only do these single-pole, single-throw (SPST) switches offer the high-reliability illumination of a solid-state light source, but they also provide designers with more styling options for the front panels of their products--the first place customers look when making a purchase decision.

Push-button Chroma LED switches are available with both round and square bezels. The round units are designed to snap into place, facilitating quick installation into front panels. The square units feature a lock nut behind the panel, for highly secure mounting. These switches have power ratings of 3A at 125VAC and 1.5A at 250VAC.

A wide range of rocker-style Chroma LED switches is offered in rectangular, round, oval and square versions, in either thread-mount or snap-in styles. These rocker switches are available for both low-voltage and power-line applications. Low-voltage units are rated for 12VDC with current-handling capabilities as high as 25A. The power-line voltage units are rated for 125/250VAC, at up to 16A (125VAC) and 10A (250VAC).

Toggle-action Chroma LED switches are available in both round and rectangular versions. The round units feature snap-in mounting. The rectangular units are thread-mounted and can be ordered with either black plastic or metal housings. Power rating for the low-voltage parts are as high as 30A at 12VDC; power-line voltage ratings are 10A at 125VAC, and up to 6A at 250VAC.

All Lumex Chroma LED switches incorporate state-of-the-art LED technology in colors including red, green, yellow, blue, and on some switches, bi-color.

For off-the-shelf delivery, please contact Digi-Key at www.digikey.com or 1-800-DIGI-KEY for pricing and availability.

For more information on Lumex Chroma LED switches, visit www.lumex.com/products.aspx?id=579. Or contact Lumex, Sales Department, 290 E. Helen Rd., Palatine, IL 60067 USA. Phone: 1-800-278-5666. FAX: 1-847-359-8904. E-mail: lmxsales@lumex.com World Wide Web: www.lumex.com. In Asia, contact Lumex's Asian Pacific Headquarters at 3F, No. 972, Sec. 4, Chung Hsing Rd., Chu Dung, Hsin Chu County, Taiwan, ROC. Phone: +886-3-582-1124. FAX: +886-3-582-1154. World Wide Web (in Chinese): www.lumex.com.tw

Lumex, an ITW company, is a leading designer, manufacturer and distributor of opto- and photo-electronic components, devices and displays. These products are used mostly in the man-to-machine interface, and in some cases, for the detection of motion, short-range signaling, and fiber communications. Lumex now offers thousands of items, with an emphasis on both application-specific and customer-specific parts for the North American, Asian and European markets.

The company is headquartered in Palatine, Illinois and Chu Dung, Hsin Chu County, Taiwan, ROC, with manufacturing facilities in Illinois, Taiwan and China, and distributors throughout North America, Europe and the Pacific Rim. Since its inception in 1980, Lumex was established as a global organization offering application-specific solutions--but with the manufacturing efficiencies normally associated only with volume operations. Lumex received its initial ISO 9001 registration in 1996.

More from Sensors, Monitors & Transducers