LED Holder snaps directly into panel.
Press Release Summary: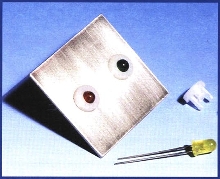 Model LEDHPM-1 holds T-1 3/4 LED securely while it
snaps into board or panel. Part snaps into 0.281 to 0.287 in. diameter hole in panel 0.044 to 0.048 in. thick. Snap-in fingers for panel hold LED in place, so no extra retaining rings are required.
---
Original Press Release:
LED Holder-Panel Mounted (LEDHPM-1)

Richco Inc. introduces the Panel Mounted LED Holder (LEDHPM-1) for mounting T-1 3/4 LEDs directly to a panel. The LEDHPM-1 design holds the LED securely while at the same it snaps into the board or panel where you want the LED to be displayed.
This part snaps into a .281" to .287" diameter hole in a panel thickness of .044" to .048".

Part Features:
* One-piece snap-in design
* Snap-in "fingers" for panel
mount and holding LED

User Benefits:
* No extra retaining rings required
* LED is held in place during
installation into the panel

Target Markets:
* Electronics Industry