LED Graphics Displays feature 128 x 32 pixels.
Press Release Summary: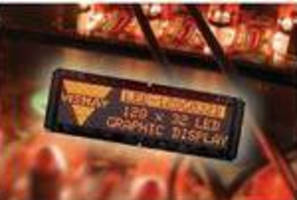 Bright red LEE-128G032B and neon orange LEE-128G032-1 solid state displays include drive electronics and +5 V HC CMOS-level video interface. Units have viewing area of 12.75 x 3.15 in. and profile of 1.1 in. Characters measure .65 x .45 in. for long distance readability, while contrast ratio is greater than 30:1 and viewing angle is greater than 150°. Displays are suitable for low- to medium-level information content in various applications.
---
Original Press Release:

Vishay Announces New 128 x 32 LED Graphics Displays with Drive Electronics and + 5-V HC CMOS Level Video Interface



New Bright Red and Neon Orange LED Displays Designed as Solid-State Alternatives to Popular Plasma Displays

MALVERN, PENNSYLVANIA - August 7, 2009 - Vishay Intertechnology, Inc. (NYSE: VSH) today announced two new 128 x 32 LED graphics displays with drive electronics and a + 5-V HC CMOS-level video interface. Designed as replacements for the popular APD-128G032 plasma display module, the new LED displays offer designers a choice of bright red (LEE-128G032B) or neon orange (LEE-128G032-1) colors while both offer high brightness and superior viewing characteristics in a slim package.

The new LEE-128G032x LED displays have four to five times the life of a plasma display, reducing maintenance and replacement costs. With a 12.75-in.(323.85mm) x 3.15-in.(80.01mm) viewing area, the LED displays are optimized for low- to medium-level information content and are suited for applications such as pinball machines and other arcade games, slot and gaming machines, process control, POS terminals, medical equipment, message centers, and automatic teller machines (ATMs).

Featuring a very low 1.1-in (19.0-mm) profile, the LEE-128G032x displays have large .65-in (16.51-mm) x .45-in (11.43-mm) characters for long distance readability, offer a high contrast ratio of > 30:1, and provide a wide viewing angle of >150°.

The LEE-128G032-1 display provides all the same features as the LEE-128G032B while providing an identical matching color for displays built on plasma technology, compared to which it uses only half as much power from a single ±5-V supply.

Single piece and production quantities of the new LED displays are available now, with lead times of 10 to 12 weeks for larger orders.

Vishay Intertechnology, Inc., a Fortune 1,000 Company listed on the NYSE (VSH), is one of the world's largest manufacturers of discrete semiconductors (diodes, rectifiers, MOSFETs, optoelectronics, and selected ICs) and passive electronic components (resistors, capacitors, inductors, sensors, and transducers). These components are used in virtually all types of electronic devices and equipment, in the industrial, computing, automotive, consumer, telecommunications, military, aerospace, and medical markets. Its product innovations, successful acquisition strategy, and "one-stop shop" service have made Vishay a global industry leader. Vishay can be found on the Internet at www.vishay.com.

More from Electronic Components & Devices