LED Fog Lamps replace H8, H11, and H16 halogen fog bulbs.
Press Release Summary: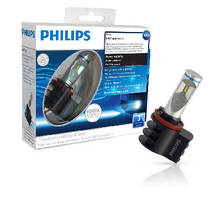 Available for popular late model vehicles, Philips X-tremeVision LED Fog Lamps deliver bright, white 6000K light with 12-year lifetime. Plug-and-play units feature patented, SafeBeam technology that eliminates glare to other drivers by creating same beam pattern as standard halogen fog lights. Providing constant cooling, AirFlux design leaves ample space for best optical lenses and ensures smooth, inclusion-free beam with no shadowing effects.
---
Original Press Release:
New Philips X-tremeVision LED Fog Lamps Now Available for Popular Late Model Vehicles
– Easy plug-and-play replacement for H8, H11, and H16 halogen fog bulbs –

Farmington Hills, MI –  Philips Automotive North America, a division of Royal Philips (NYSE:PHG), has just introduced the new Philips X-tremeVision LED Fog Lamp for halogen fog replacements on popular late model vehicles. The new LED fog lamps deliver a bright, white 6000K light that matches perfectly with the color of Xenon and LED headlights and Philips CrystalVision ultra upgrade headlight bulbs. Philips X-tremeVision LED fog lights offer an easy plug-and-play replacement for H8, H11, and H16 halogen fog bulbs, and are designed to deliver a 12-year lifetime.

Philips X-tremeVision LED Fog lamps feature a patented, SafeBeam technology that eliminates glare to other drivers by creating the same beam pattern as standard halogen fog lights. This technology ensures that the light emitted from LED fog lamp is directed onto the road and not into the eyes of oncoming drivers. Philips X-tremeVision LED Fog Lamps are made with an innovative AirFlux design, which provides constant cooling and ensures the highest light quality and longest possible service life. This design also leaves ample space for the best optical lenses and ensures that there is a smooth, inclusion-free beam with no shadowing effects.

Editor note: Philips X-tremeVision LED Fog Lamps are not intended for use in headlight applications.

For more information, visit: philipsxtremevisionled.com or call 1-800-257-6054.

About Philips Automotive
From high performance lighting that improves driver safety, to lighting designed to enhance the style of your ride, Philips offers automotive lighting that will help you make the most of your driving experience. All Philips Automotive products incorporate the leading edge lighting technology and original equipment quality that have made us the first choice of car manufacturers around the world.

About Royal Philips
Royal Philips (NYSE: PHG, AEX: PHIA) is a diversified health and well-being company, focused on improving people's lives through meaningful innovation in the areas of Healthcare, Consumer Lifestyle and Lighting. Headquartered in the Netherlands, Philips posted 2013 sales of EUR 23.3 billion and employs approximately 116,000 employees with sales and services in more than 100 countries. The company is a leader in cardiac care, acute care and home healthcare, energy efficient lighting solutions and new lighting applications, as well as male shaving and grooming, home and portable entertainment, and oral healthcare. News from Philips is located at www.philips.com/newscenter.

Media Contact:
Ann-Marie Hines 
Sr. Marketing Manager
Philips Automotive, NA 34119 W. 12 Mile Rd. Farmington Hills, MI 48331
Tel: (248) 957-4085
Email: ann-marie.hines@philips.com
More from Packaging Products & Equipment