LED Floodlights target crash-test facilities.
Press Release Summary: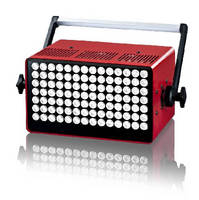 When M=LIGHT LED Floodlights are activated, luminous flux of at least 100,000 lumens is immediately available, and color temperature of approximately 6,500 K is reached. Boost mode enables LEDs to flash at 10,000 times per second to help minimize energy consumption, compared to continuous operation. In addition, floodlights can be synchronized to camera being used for crash-test and configured to only generate light when camera needs it.
---
Original Press Release:

MESSRING Produces First LED Floodlights for Crash-Test Facilities



M=LIGHT LED guarantees extreme luminous intensity in boost mode

Munich, - MESSRING from Munich, the world leader in producing crash-test facilities, presents M=LIGHT LED floodlights, which offer tremendous advantages over all other forms of electric lighting. Trends in illuminating crash tests over the past 30 years have run the course from halogen to HMI and now to LEDs, where LED technology represents a genuine quantum leap in many areas. Now, they can also be used in crash-testing facilities.

HMI or even halogen technology is still the standard that is used in many crash-test
centers. However, the new LED floodlights from MESSRING offer considerable added
value. Significant energy savings, low maintenance costs, extreme brightness that is
instantly available, and longer life span are just a few of the key properties that make them an economical and technically meaningful purchase.

No warm-up phase - immediate maximum luminous power

Especially with HMI technology, it was always disadvantageous that the floodlights
needed a certain warm-up time to reach full luminosity and a considerable cool-down
time before they could be reused. With the M=LIGHT LED these problems are a thing of
the past. When the LED is activated, its luminous flux of at least 100.000 lumens is
immediately available, and a perfect color temperature of approximately 6.500 Kelvin is
reached directly upon being switched on. The right color temperature guarantees that all details of the images match a natural "visual impression" and that no color defects
occur.

More cost-efficient with up to 10.000 flashes per second

Continually rising energy prices quickly make HMI or halogen floodlights huge power
hungry appliances at crash-test facilities. That is why MESSRING designed something
special for the new LED floodlight. It has a boost mode that can flash the LEDs at up to 10.000 times per second. During the repeated sequence of flash and pause, the device
consumes at least 80% less energy than during continuous operation.

Another advantage of boost mode: the amount of light emitted by the M=LIGHT LED
floodlight, which is already very high in continuous operation, can be nearly doubled by the short flashing time. In crash tests, the high-speed camera must capture at least
1.000 images per second to record events precisely. In the case of a deployed air bag, it may even be necessary to record up to 10.000 images per second. The M=LIGHT LED
floodlight can be synchronized to the camera being used for the crash-test. The LED
can then be configured to only generate light when the camera actually needs it.

"The development of LED technology is making such rapid strides forward and offers so
many advantages for crash-test documentation that we at MESSRING are absolutely
convinced of this technology's future," says Dierk Arp, CEO of MESSRING. "The
M=LIGHT LED series makes the work of test engineers easier, saves energy and has a
much longer life span than anything that was previously offered on the market."

For a wide variety of test setups

The floodlights are available with various lens attachments that can bundle the light of the LEDs according to requirements or project them onto a broad surface. This is
important for different test fixtures, because it is necessary to focus on specific events in different crash configurations, for example, when recording a belt tensioner being triggered or illuminating rather lighting-critical vehicle components, such as the door sill.

From HMI to LED - simple retrofitting

In most cases, it is easy to retrofit existing HMI light fixtures in crash-test facilities. Often, it is not even necessary to replace the existing frames or cabling, which makes retrofitting to LEDs even more cost-effective.

Longer product life span

The life span of the LEDs used by MESSRING is over 50.000 hours, which is a very
high value compared to HMI or halogen lighting systems. The individual floodlights can be installed in batteries of lights or individually. They are very easy to handle and weigh approximately 5.5 kg each. Another advantage compared to conventional lights: they do not emit any thermal radiation in the direction of the test object, and waste heat from the floodlight is absorbed and compensated by efficient heat sinks.

Easy operability is a standard feature of all MESSRING products, and the M=LIGHT
LED floodlights are easy to control via the integrated operating panel, a PC, or even a
tablet.

Technical data:

- Life span of the LEDs: >50.000 hours

- Nominal power: 1.000 Watts

- Color temperature: approx. 6.500 - 7.100 Kelvin (daylight)

- Luminous flux: >100.000 lumens

- Dimensions: 148 × 250 × 180 mm

- Weight: 5.5 kg

- Possible lighting angles: 23°, 37°, 56°, 71°, 120°

- Ambient temperature 0-50°C

About MESSRING

MESSRING Systembau GmbH of Munich is the world's leading manufacturer of crash
test systems and components. The mid-size company designs and builds turnkey test
systems for customers in all relevant markets and on nearly all continents. To date,
MESSRING has implemented over 90 large crash test systems for automotive OEMs,
insurance companies, and governmental facilities - more than any other company. In
the process, the global market leader continues to astonish the field time and again with innovative advances and revolutionary new solutions, whether in system design, the
actual measurement equipment, or in documentation and recording of individual tests.
For more information, go to www.messring.de.

More from Printing & Duplicating Equipment