LED Floodlights promote sustainability.
Press Release Summary: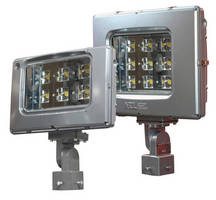 Offering alternative to 100–1,000 W metal halide floodlights, ACP Series has 20+ year service life; employs glass optics, with L70 and driver life >100,000 hr; and features segmented internal reflectors for optimized field to beam ratios, uniformity, and spacing. Die-cast aluminum housing and thermal management system promote longevity, while optional tool-less entry and integral 3-stage terminal block facilitate installation. Luminaires are available with 4,000K or 5,000K CCT and 70 CRI.
---
Original Press Release:

New American Electric Lighting LED Floodlights from Acuity Brands Slash Ownership Costs, Boost Visibility



Sustainable luminaires reduce energy and maintenance costs by more than 50 percent



GRANVILLE, Ohio – Acuity Brands, Inc. (NYSE: AYI) introduces ACP Series LED floodlights from American Electric Lighting® that save up to 60 percent in energy costs, while cutting maintenance by as much as 50 percent compared to a metal halide floodlight. Sustainable solution ACP1LED and ACP2LED luminaires also reduce CO2 emissions by up to 60 percent while providing a service life of over 20 years.



ACP1LED medium luminaires are available with 2, 3, 4, 5 or 6 chip-on-board (COB) modules and replace conventional 100- to 400-watt floods. ACP2LED large luminaires are offered with 7, 8 or 9 COB modules to replace conventional 400- to 1,000-watt floods. Both luminaires offer the precision and permanence of glass optics, with L70 and driver life greater than 100,000 hours.



Other ACP LED floodlight features and benefits include the following:



• Optimized thermal management system for reliability and long life;



• Segmented internal reflectors for outstanding field to beam ratios, uniformity and spacing;



• Die-cast aluminum housing for longevity:



• Optional tool-less entry and integral three-stage terminal block to ease installation;



• Surge protection for reliability and long life



• Optional ROAMView™ controls;



• Multiple lumen packages offering application flexibility



• ANSI three-pin locking style receptacle is standard with optional five-pin receptacle



New ACP1LED and ACP2LED floodlights are available with 4,000K or 5,000K correlated color temperature (CCT) and a color rendering index (CRI) of 70. Other options include bolted or latched door, wire or vandal guard, and visors. Fixture mounting options include tenon-slipfitter knuckle, galvanized steel yoke or painted steel yoke.



Both ACP LED luminaires have an IP66 engine rating, 2G vibration rating and a super durable paint finish with a 2500 hour salt fog rating.



"American Electric Lighting ACP LED floodlights are designed to significantly reduce the total cost of ownership," said Dave Deck, Acuity Brands Lighting Value Stream Manager, Specialty Lighting. "The luminaires also provide the improved visibility associated with a whiter light."



ACP Series LED floodlights are applicable for a range of environments, including parking lots, building facades, bridges, power plants, water and waste water treatment plants, facility perimeters and secure areas.



For further details about ACP LED floodlights and the options available, visit www.americanelectriclighting.com or call 800-754-0463.



About Acuity Brands



Acuity Brands, Inc. is a North American market leader and one of the world's leading providers of lighting solutions for both indoor and outdoor applications. With fiscal year 2013 net sales of over $2 billion, Acuity Brands employs approximately 6,500 associates and is headquartered in Atlanta, Georgia with operations throughout North America, and in Europe and Asia.  The Company's lighting solutions are sold under various brands, including Lithonia Lighting®, Holophane®, Peerless®, Gotham®, Mark Architectural Lighting™, Winona® Lighting, Healthcare Lighting®, Hydrel®, American Electric Lighting®, Carandini®, Antique Street Lamps™, Sunoptics®, Axion™ Controls, Sensor Switch®, Lighting Control & Design™, Synergy® Lighting Controls, Pathway Connectivity™, Dark to Light®, ROAM®, RELOC® Wiring Solutions, Acculamp® and eldoLED®.



About American Electric Lighting



Headquartered in Granville, Ohio, American Electric Lighting has been recognized for the highest quality and reliability in outdoor, utility and infrastructure lighting for over 60 years. A division of Acuity Brands, AEL provides energy efficient lighting systems for a range of utility, DOT, municipal and other outdoor applications.



Visit www.americanelectriclighting.com to see the latest product news from AEL.

More from Material Handling & Storage