LED Flood System accelerates curing process.
Press Release Summary: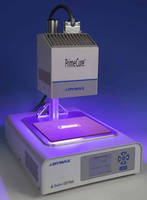 Along with 5 x 5 in. active area, BlueWave® LED Flood System is available with 365, 385, and 405 nm irradiator heads to optimize curing process between light-curable material and curing system. Intensity and uniformity contribute to accelerated and repeatable cure times, while instant on/off capability eliminates mechanical shutter components and warm-up time requirements. CE-certified and RoHS-compliant system suits manufacturers looking to complement their green initiatives.
---
Original Press Release:

BlueWave® LED Flood System Offers Fast Cure Times



Torrington, Connecticut – Dymax Corporation has introduced the new BlueWave® LED Flood System which offers greater intensity and uniformity, contributing to faster and more repeatable cure times.  With LED's instant on/off capability, there are no mechanical shutter components, no warm-up time requirements, faster exposure cycles, and lower maintenance costs.



The LED Flood is available with three different wavelength irradiator heads (365, 385, and 405 nm) so users can fully optimize the curing process between their light-curable material and the curing system.  The system features a generous 5" x 5" (12.7 cm x 12.7 cm) active area for curing larger parts and helping to reduce cure times.  It is CE certified, RoHS compliant, and offers user-friendly operation, making the BlueWave® LED Flood unit the ideal curing system for manufacturers looking to complement their "green" initiatives.



In addition to light-curing equipment, Dymax also offers adhesives, coatings, and high-performance oligomers as well as a variety of dispensing equipment.  The company's products are perfectly matched to work seamlessly with each other, providing design engineers with tools to dramatically improve manufacturing efficiency and reduce costs.



For additional information, visit www.dymax.com or contact Dymax Application Engineering at info@dymax.com or 860-482-1010.  Dymax Corporation develops innovative oligomer, adhesive, coating, dispensing, and light-curing systems for applications in a wide range of markets.  Major markets include aerospace, appliance, automotive, electronics, industrial, medical device, and metal finishing.