LED Fixtures feature intelligent lighting sensors, controls.
Press Release Summary: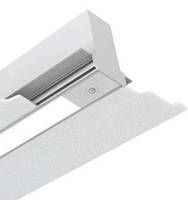 Grüv 1.5 in. LED lighting fixtures use sensors with secure architecture that provide insight while helping achieve sustainability goals. Seamless cloud-based network collects, aggregates, and communicates detailed information wirelessly on building occupancy and performance, environmental conditions, ambient light levels, temperature, and energy consumption. Available at 5 or 10 W/ft, luminaires output up to 650 lm/ft and exhibit 73 lm/W efficacy. CCTs are 2700K, 3000K, 3500K, and 4000K.
---
Original Press Release:

Amerlux Adds Breakthrough Sensors Supported by Analytics Platform to Grüv 1.5 Architectural LED Linear Lighting Family



OAKLAND, N.J. -- Prized for classic good looks, performance and flexibility, Amerlux re-introduces the Grüv 1.5" LED family featuring the most intelligent and advanced lighting sensors controls in the industry.



"We are very excited to re-introduce Grüv 1.5 family LED lighting fixtures with built-in advanced smart sensors supported by a state of the art analytics platform," explains Amerlux CEO/President Chuck Campagna. "Our customers have the ability to utilize control-embedded lighting that's smart, code-compliant, and ahead of the technology curve."



The new sensors are engineered with unique, secure data-rich architecture that provides unparalleled insights around the clock while helping to achieve sustainability goals and reducing costs. The controls offer motion and photometric sensors, dimming capabilities, and data collection. Smart customized controls help management professionals reduce lighting and energy costs with an extremely impressive ROI of up to 80 percent for public buildings, without compromising comfort. A seamless, dense data cloud-based network collects, aggregates and communicates detailed information wirelessly on building occupancy and performance, environmental conditions, ambient light levels, temperature, and energy consumption. The system has the potential to extend savings to HVAC, real-time demand response, security, and safety systems.



Incorporating this new sensor into the Grüv 1.5" does not take away from its clean lines, discreet styling, or excellent performance. It enhances it and gives the end user a complete package. The Grüv 1.5'' LED can still climb walls, cross ceilings, and literally go everywhere your design wants it to be.



Grüv 1.5" features components and a miniature aperture that allow designers to create recessed patterns running on walls and over ceilings, then transition smoothly to open ceilings. Available at 5w or 10w per foot, the luminaires deliver a high output with up to 650 lumens per foot and a significant efficacy at 73 lumens per watt. Custom sized lengths are available to meet designers' exact specifications. Four CCTs are available: 2700K, 3000K, 3500K and 4000K.



"Grüv 1.5 provides robust illumination while offering clean, understated aesthetics and design continuity from discreet linear profiles," continued Mr. Campagna. "This special combination of unobtrusive light sourcing is available with flexible mounting capabilities, solid performance, high-quality extruded materials and superior LED technology and drivers."



Offered with flanged or trimless styles, Grüv 1.5" can be recessed in ceilings or walls while performing at high levels in gypsum board, Armstrong TechZone(TM), USG Logix(TM), Slot and T-grid ceilings, or J-mold for all configurations. The luminaires can be individual or continuous row-mounted using a drawer latching system that provides easy and precise joining of units for straight runs, wall runs for longer runs with J channels, and in T- or L-shaped patterns.



Grüv is now available with the new Standard Plus, a wall-to-wall innovation featuring a field-customizable bracket system that will revolutionize the way the industry approaches linear runs. With a savings of up to 35 percent over made-to-measure fixtures, the 6" Standard Plus option for the Grüv family of recessed slot luminaires is engineered to easily install and is field-cuttable to adapt to the imprecise and inconsistent distances between walls within the same space. Standard Plus installs optimally with Grüv 1.5" LED, Grüv Mini Recessed, Grüv 4" Recessed Linear, and Grüv 6" High Efficiency Recessed Linear.



Options include various accessories and more than 200 durable powder coat painted finishes, to complement nearly any design scheme.



About Amerlux LLC

Amerlux® creates lighting designed around its customers and will stop at nothing to help realize their vision. Amerlux works closely with customers every step of the way, from design through construction, to ensure total success and total satisfaction. Amerlux is fueled by a passion to consistently deliver in a fraction of the time of competitors, even on short-run custom orders, and that includes making sure every order is accurate, every product performs flawlessly, and every customer is successful.



Amerlux speaks the language of light for design and construction professionals around the world by manufacturing a broad array of optically superior, energy efficient lighting solutions for the retail, supermarket, hospitality, commercial and exterior lighting markets. Amerlux products and services include track lighting, recessed downlighting and multiples, pendants, linear systems, and custom lighting solutions, as well as support for energy reduction plans that can be used as a guide to state, city and local utility rebate programs for maximum energy savings and utility incentives. The company's domestic and international clients receive the support of Amerlux's highly trained specification sales force, as well as expert service from initial design to on-time delivery made possible by strategically located manufacturing, warehousing and shipping locations.



Contact:

AMERLUX, LLC

178 Bauer Drive

Oakland, New Jersey 07436

www.amerlux.com

info@amerlux.com

T 973.882.5010

F 973.882.2605

More from Fluid & Gas Flow Equipment