LED Drivers have energy efficient design.
Press Release Summary: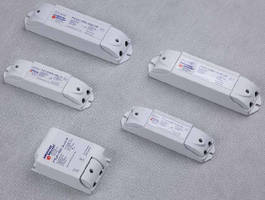 Suited for parallel and series configurations, energy-efficient LED drivers employ Instant Start technology and operate over -20 to +70°C range. They are protected against over-voltage and over-current conditions, and auto-recovery technology ensures return to full power if driver does short circuit. Rated IP20 and IP66 for dry and wet locations, drivers can create lighting effects with dimming capabilities and light distribution control for each LED built into fixture.
---
Original Press Release:

American Ballast's LED Drivers Provide Up to 85% Energy Savings



FREMONT, CA, (June 16, 2009) - American Ballast, a global commercial and residential power solutions company with worldwide manufacturing capabilities, has developed a line of high-performance, energy efficient LED drivers. Enabling advancements in LED lighting, the LED drivers can provide up to 85% energy savings in a wide range of indoor and outdoor lighting applications such as street lights, indoor down lights, ceiling lights, displays and channel lighting.

"As an industry leader in developing environmentally friendly products and manufacturing solutions, American Ballast and its parent company, Phihong, are committed to meeting voluntary and mandatory worldwide regulatory initiatives," said Eric Xie, American Ballast's R&D Director. "Phihong is the first external power supply manufacturer to attain the U.S. ENERGY STAR certification and has also been recognized by the U.S. Environmental Protection Agency as an Innovation Design Eco Award Winner for environmentally friendly products. American Ballast has adapted the same mentally and technology for its environmental friendly LED Driver products."

Featuring Instant Start technology with parallel circuit configuration, the LED drivers are engineered to outperform other Instant Start drivers. The operating temperature range is -20°C up to 70°C, eliminating the concern for use in harsh or cold weather environments. The LED driver is protected for failure with over voltage and current protection. In the case where the driver does short circuit, the advanced engineering provides for auto-recovery and return to full power.

Ideal for parallel and series configurations, American Ballasts' LED driver family is IP20 and IP66 rated for dry and wet locations. In addition, the LED driver offers enhanced design functions including the capability to create versatile lighting effects with the dimming capabilities and light distribution control for each LED built into the fixture.

Each driver is 95 x 76 x 32mm and have an AC input of 110Vac. Operating levels range from 160-304Vac and have been tested to ensure a current accuracy level of 1% and load regulation of 3%.

Customers are guaranteed a high-performance driver that meets EMC, FCC, RoHS and government safety standards. All American Ballast lighting solutions are UL & CuL recognized.

With the development of advanced thermal technology the drivers are guaranteed to maintain a high-level of performance and long operation. American Ballast confidently offers a three-year or 100,000 hours warranty.

For more information about our energy efficient LED driver family, visit American Ballast at www.americanballast.com or email info@americanballast.com. The company can also be reached at 47800 Fremont Blvd., Fremont, CA 94538 or (888) 313-8188.

About American Ballast
Phihong, established in 1972, introduced the American Ballast brand into the North American market place in 2004 specifically to design and manufacture energy-efficient electronic fluorescent and HID ballast for commercial and residential lighting customers in North America. With worldwide manufacturing and design capabilities, American Ballast utilizes decades of experience delivering high-quality power solutions as part of a $500 million global company that also includes the world's fifth-largest power supply manufacturer. American Ballast's products are manufactured in ISO 9001-certified facilities worldwide and meet Energy Star and numerous other industry standards, including 100% burn-in, full-functional and advanced-life testing standards.

Related