LED Drivers are suited for wireless handset applications.
Press Release Summary: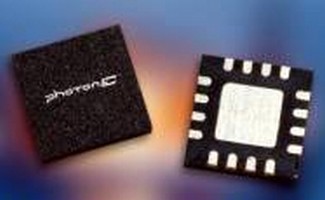 Current regulated fractional charge pump WLED drivers line includes CM913x/4x series that can drive up to 6 WLEDs, up to 50 mA on each output, with input voltage ranging from 2.9-6 V. Voltage regulated CM915x drivers feature fixed output voltage of 4.5 V with output ripple of <1% and accuracy of 2%. All drivers can operate in both 1x and 1.5x fractional modes.
---
Original Press Release:

California Micro Devices Adds Family of Fractional Charge Pump LED Drivers for Wireless Handsets



MILPITAS, California, May 1/ --

Enhanced PhotonIC(TM) Portfolio Delivers High Efficiency for Low Bills of Materials

California Micro Devices (Nasdaq: CAMD) today added a compelling and differentiated family of fractional charge pump WLED drivers to its PhotonIC(TM) family of white LED (WLED) drivers for wireless handset applications. With increased demand for brighter and larger resolution displays, powerful camera flash capabilities for multi-megapixel camera resolutions and various types of LEDs to support keypad backlight and multimedia capabilities, wireless handset designers have become increasingly concerned with the efficiency of the LED driver subsystem.

California Micro Devices' PhotonIC(TM) family of white LED drivers now includes five current regulated fractional charge pump products (CM913x/4x) that can drive up to six WLEDs, as well as three voltage regulated products (CM915x). All these products feature a simple analog control interface as well as optimal efficiency in a compact footprint.

Current Regulated Products: CM913x/4x

The CM913x/4x family includes five fractional charge pump products described in the following table:


Product                       Driving Capabilities

    CM9130     One group of 3 matched WLEDs

    CM9132     One group of 3 matched WLEDs + One group of 2 matched WLEDs

    CM9133     One group of 3 matched WLEDs + One group of 3 matched WLEDs

    CM9140     One group of 4 matched WLEDs

    CM9142     One group of 4 matched WLEDs + One group of 2 matched WLEDs

Products in the CM913x/4x family can operate with an input voltage ranging from 2.9V to 6V and in both 1x and 1.5x (fractional) modes in order to optimize efficiency. They are capable of driving up to 50mA on each output with 2 percent current matching and each output can be independently controlled through a PWM and (or) analog interface. They require no external ballast resistor or inductor minimizing the footprint of the complete solution. Using this architecture also helps designers significantly reduce EMI (WHY)(electromagnetic interference). They operate at a switching frequency of 500 kHz and feature over-temperature protection, overcurrent protection, a soft start feature to prevent excessive in rush current and low shutdown current. They are housed in a 4mm x 4mm QFP package. These products are ideal for driving display backlights as well as keypad or camera flash LEDs in the most efficient way (more so than the boost products) in a compact footprint.

Voltage Regulated Products: CM915x

The CM915x family consists of three products described in the following
table:


Product                       Driving Capabilities

    CM9153      Up to 6 WLEDs - 650 kHz - DFN8 or MSOP8 packages

    CM9156A     Up to 6 WLEDs - 4 Selectable frequencies - DFN10 or MSOP10 

                packages

    CM9156B     Up to 6 WLEDs - 2 Selectable frequencies - DFN10 or MSOP10 

                packages

Products in the CM915x family feature a fixed output voltage of 4.5V with output ripple of less than 1 percent and an accuracy of 2 percent. They can operate in both 1x and 1.5x (fractional) modes in order to optimize efficiency. The CM9156A and CM9156B offer selectable switching frequencies to allow further power savings reduction. The CM9153 is housed in compact DFN8 or MSOP8 packages, and the CM9156A and CM9156B are offered in either DFN10 or MSOP10 packages. They also feature over-temperature protection, overcurrent protection and soft start. The CM9156 is pin compatible with other products in the market but offers higher efficiency.

Application & Deliverables

Both product families are a perfect fit to drive backlight, keypad and camera flash LED sub systems in the most efficient way (more so than the boost products?) in a compact footprint and at the lowest bill of materials.

Reference design kits are available to customers to allow rapid evaluation of the advantages and benefits of this product portfolio.

Pricing and Availability

All the products described are currently sampling and reference design kits are available. Pricing ranges from US$0.60 to US$1.20 in 1,000 units.
Production is scheduled for Q2 2006.

About California Micro Devices Corporation

California Micro Devices Corporation is a leading supplier of application specific analog semiconductor products for mobile handset, personal computer and digital consumer electronics markets. Key products include Application Specific Integrated Passive(TM) (ASIP(TM)) devices and selected high value, mixed signal ICs. Detailed corporate and product information may be accessed at www.calmicro.com.

NOTE: Application Specific Integrated Passive(TM), ASIP(TM) and PhotonIC(TM) are trademarks of California Micro Devices. All other trademarks are property of their respective owners.

Web site: www.calmicro.com

Source: California Micro Devices Corporation

Richard Haas of California Micro Devices Corporation,
+1-408-934-3108, or
richardh@calmicro.com

More from Mechanical Components and Assemblies