LED Driver provides front panel activity control.
Press Release Summary: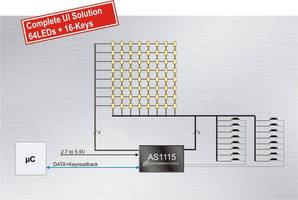 Capable of driving either eight 7-segment digits or 64 individual LEDs with 47 mA per digit or 5 mA per LED, AS1115 allows read-back of 16 keys and provides detailed error diagnostics. It operates from single 2.7-5.5 V supply and requires low supply current of 0.6 mA during operation and 200 nA in shutdown mode. Available in QSOP 24-pin package, device operates in temperatures from -40 to +85°C. AS1115 interfaces via I²C and up to 4 devices can be addressed on single I²C bus.
---
Original Press Release:

austriamicrosystems Introduces the AS1115, an LED Driver with Frontpanel Activity Control



The AS1115 drives 64 LEDs individually, allowing the read-back of 16-keys, it also provides detailed error diagnostics, making it the perfect single chip user interface solution

Unterpremstaetten, Austria (June 29, 2009) - austriamicrosystems (SIX: AMS), a leading global designer and manufacturer of high performance analog ICs for communications, industrial, medical and automotive applications, expands its comprehensive LED driver portfolio with the AS1115, an easy to use user interface (UI) LED driver.
The AS1115 combines display driving and key scanning providing a complete front panel solution which eliminates the use of secondary ìP or other logics plus discrete devices, reducing BOM count and cost.

The AS1115 can drive either eight 7-segment digits or 64 individual LEDs with 47mA per digit or 5mA per LED. An external resistor can easily adjust the current. With an excellent accuracy of ±3%, the AS1115 improves picture quality for LED displays, this is due to minimised intensity variations between the LEDs and LED modules. For either global digital brightness control, or separate dimming, of each single digit a 4-bit PWM is implemented. Additionally the AS1115 offers the read back of up to 16-keys completing the single chip UI solution.

A unique feature of austriamicrosystems' AS1115 is the built-in LED error detection. Simple and intuitive to use, the user-friendly software interface allows the error diagnostics to be easily accessed during normal operation. This solution can detect any open- or short-circuit within the multiplexed 8x8 LED array, and a detailed error report can be read out with the exact position of the broken LED, this is especially helpful to reduce test time during production.

"Due to the extremely competitive market, today's consumer electronics or home appliance producers are under constant pressure to reduce costs. Most user interfaces demand a display to show information and buttons to interact with. Additionally, LED error detection is a very important factor to reduce test, production and maintenance
cost," said Bruce Ulrich, Director Marketing Standard Linear at austriamicrosystems. "The AS1115 addresses all these needs and helps designers achieve a more efficient, more simplified design, for front panels, such as those found on set-top boxes, DVD players, washing machines, dryers and microwave ovens."

The AS1115 operates from a single 2.7V to 5.5V supply while requiring the lowest supply current of 0.6mA during operation and 200nA in shutdown mode. The AS1115 interfaces via I²C and up to four devices can be addressed on a single I²C bus.

The AS1115 is suitable for operating environments ranging from -40 to +85°C and requires a minimum of external components reducing system costs to a minimum. Optimised for easy handling the AS1115 comes in a QSOP 24-pin package. For space sensitive applications a TQFN(4x4)-24 package is also available. For product specific
information, to download data sheets or to request free samples from austriamicrosystems' online shop ICdirect, please visit www.austriamicrosystems.com/LED-Driver/AS1115 .

About austriamicrosystems
austriamicrosystems is a leading designer and manufacturer of high performance analog ICs, combining more than 27 years of analog design capabilities and system know-how with its own state-of-the-art manufacturing and test facilities. austriamicrosystems leverages its expertise in low power and high accuracy to provide industry-leading
customized and standard analog products. Operating worldwide with more than 1,000 employees, austriamicrosystems focuses on the areas of power management, sensors & sensor interfaces and mobile infotainment in its markets Communications, Industry & Medical and Automotive, complemented by its Full Service Foundry activities. austriamicrosystems is listed on the SIX Swiss Exchange in Zurich (ticker symbol: AMS). For more information, please visit www.austriamicrosystems.com

For further information
Technical Contact
austriamicrosystems AG
Rene Wutte
Marketing Manager Standard Linear
Tel: +43 (0) 3136 500 5653
Fax: +43 (0) 3136 500 5420
rene.wutte@austriamicrosystems.com
www.austriamicrosystems.com

More from Electronic Components & Devices