LED Driver offers error detection for 8 x 8 matrix displays.
Press Release Summary: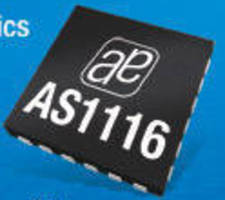 Available in 0.6 mm TQFN 4 x 4 mm package, AS1116 operates from single 2.7-5.5 V supply and requires supply current of 0.6 mA during operation and 200 nA in shutdown mode. It has operating range from -40 to +85°C, and can drive either eight 7-segment digits or 64 individual LEDs with 47 mA/digit or 5.5 mA/LED. With accuracy of ±3%, unit implements 4-bit PWM for global digital brightness control or separate dimming of each single digit in 16 steps.
---
Original Press Release:

austriamicrosystems Introduces Ultra Small LED Driver with Error Detection for 8x8 Matrix Displays



AS1116 drives 64LEDs individually, offering advanced diagnostic for open and short detection

Unterpremstaetten, Austria (March 10, 2009) - austriamicrosystems (SWX: AMS), a leading global designer and manufacturer of analog ICs for communications, industrial, medical and automotive applications, expanded its comprehensive LED driver portfolio with the AS1116, an ultra small multiplexed LED driver. The AS1116 operates from a single 2.7V to 5.5V supply while requiring lowest supply current of 0.6mA during operation and 200nA in shutdown mode.

The AS1116 can drive either eight 7-segment digits or 64 individual LEDs with 47mA per digit or 5.5mA per LED. The current can be easily adjusted by an external resistor. With an excellent accuracy of ±3%, the AS1116 improves picture quality of LED displays since intensity variations between LEDs and LED modules are minimized. For either global digital brightness control or separate dimming of each single digit in 16 steps a 4-bit PWM is implemented.

A unique feature of austriamicrosystems' AS1116 is the built-in LED error detection. Simple and intuitive to use, the user-friendly software interface allows the feature to be easily invoked during normal operation ensuring rapid error detection. The AS1116 can detect any open- or short-circuit within the multiplexed 8x8 LED array and a detailed error report can be read out with the exact position of the broken LED.

"As the resolution of LED displays increases the market demands more accurate LED drivers in smaller packages which are able to drive quite a number of LEDs. Additionally, LED error detection is a very important factor in commercial applications to reduce test, production and maintenance cost," said Bruce Ulrich, Director Marketing Standard Linear at austriamicrosystems. "Coming in a small package and offering extremely high performance together with unique LED error detection, the AS1116 addresses all these needs."

The AS1116 is suitable for operating environments ranging from -40 to +85°C and requires a small external resistor and a single capacitor reducing the required PCB space to a minimum. Optimized for space restricted application and offering excellent thermal performance the AS1116 is available in a 0.6mm thin TQFN(4x4mm) package. For easier handling a QSOP 24-pin package is also available.

For product specific information, to download data sheets or to request free samples from austriamicrosystems' online shop ICdirect, please visit http://www.austriamicrosystems.com/LED-Driver/AS1116

About austriamicrosystems

austriamicrosystems is a leading designer and manufacturer of high performance analog ICs, combining more than 25 years of analog design capabilities and system know-how with its own state-of-the-art manufacturing and test facilities. austriamicrosystems leverages its expertise in low power and high accuracy to provide industry-leading customized and standard analog products. Operating worldwide with more than 1,000 employees, austriamicrosystems focuses on the areas of power management, sensors & sensor interfaces and mobile entertainment in its markets Communications, Industry & Medical and Automotive, complemented by its Full Service Foundry activities. austriamicrosystems is listed on the SWX Swiss Exchange in Zurich (ticker: AMS).

For further information

Technical Contact
austriamicrosystems AG
Rene Wutte
Marketing Manager Standard Linear
Tel: +43 (0) 3136 500 5653
Fax: +43 (0) 3136 500 5420
rene.wutte@austriamicrosystems.com
www.austriamicrosystems.com

More from Electrical Equipment & Systems