LED Driver offers 12-bit PWM, dot correction, and diagnostics.
Press Release Summary: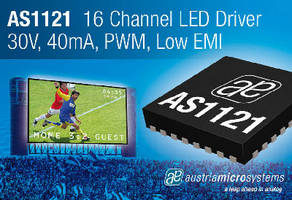 With 30 V LED supply voltage, 16-channel Model AS1121 can be used directly with 24 V supplies. Each of 16 channels can be individually adjusted by 4096-step greyscale PWM brightness control running at 10 MHz as well as by 64-step constant-current sink for dot correction. To prevent high inrush currents, IC offers controlled output delay grouped by 4 channels. Housed in 5 x 5 mm 32-pin TQFN package, driver meets needs of LED video walls and LED backlights in monitors and TVs.
---
Original Press Release:

austriamicrosystems Announces New 30 V, 40 mA, 16-channel LED Driver with 12-bit PWM, Dot Correction and Diagnostics



AS1121 LED display driver offers high drive voltage and noise reduction features

Unterpremstaetten, Austria - austriamicrosystems (SIX: AMS), a leading global designer and manufacturer of high-performance analog ICs, has introduced the AS1121, a 30 V, 40 mA, 16-channel LED driver with 12-bit PWM (pulse width modulation), dot correction and diagnostics. With a 30 V LED supply voltage, the AS1121 reduces the number of external support components compared to alternative devices and can therefore be used directly with 24V (or higher) supplies.

The AS1121 LED driver is designed to meet the needs of high-end LED video walls where excellent picture quality is needed. It can also be used for LED backlight driving in monitors and TV's, or to generate ambient light patterns. The AS1121 features a 6-bit dot correction feature for full-color LED displays like stadium displays, outdoor and indoor displays, displays for public transport, street signs and LED video walls.

The AS1121 is a 16-channel, constant current-sink LED driver. Each of the 16 channels can be individually adjusted by a 4096-step greyscale PWM brightness control (equals 6.8 billion colors) running at 10 MHz as well as by a 64-step constant-current sink for dot correction. The dot correction circuitry adjusts the typical brightness variations of LEDs on each channel. The greyscale control and dot correction circuitry are accessible via the SPI-compatible serial interface. A single external resistor sets the maximum current value of all 16 channels. An open-LED detection function indicates a broken or disconnected LED at one or more of the outputs. Other features include an over-temperature signal and a power-down pin that can put the AS1121 LED driver IC into a 40 nA standby mode.

austriamicrosystems' AS1121 16-channel LED driver provides noise reduction features to make sensitive LED applications easier to build. Also, to prevent high inrush currents the AS1121 offers a controlled output delay grouped by 4 channels. The controlled delay allows the best picture quality to be maintained, even with the shortest PWM cycles, while reducing current peaks that sometimes generate audible noise on capacitors. For extremely EMI sensitive applications the rise and fall times can be programmed at the factory.

Rene Wutte, marketing manager for lighting products at austriamicrosystems, said, "Top quality displays provide high color depth and brightness, high frame rates and excellent contrast ratio in order to be used outdoors, especially in bright sunlight. Additionally, LED error detection is a very important factor for optimizing maintenance cost and to guarantee high picture quality. The AS1121 LED display driver allows all this to be achieved and at an excellent cost/performance point."

The AS1121 LED driver IC is "drop-in" compatible with austriamicrosystems's previously introduced AS1112 and can be used with the same software.

Housed in a 5x5 mm 32-pin TQFN package, the AS1121 LED driver is specified for operation from a 3.3 volt power supply over an ambient temperature range of -40 to +85°C.

Price & Availability

The AS1121 16-channel LED driver is available now and is priced at $1.20 in 1000 piece quantities.

Technical Support

A demonstration board for the AS1121 LED driver with 12-bit PWM is available. Contact austriamicrosystems for price. For further information on the AS1121 or to request samples, please visit www.austriamicrosystems.com/LED-driver/AS1121

About austriamicrosystems

austriamicrosystems is a leading designer and manufacturer of standard and customized high-performance analog ICs in the areas of power management, sensors & sensor interfaces and mobile infotainment. Complemented by its full service foundry services, the company focuses on the communications, industrial & medical and automotive markets. austriamicrosystems leverages almost 30 years of expertise in low power and high accuracy to provide industry-leading products, operating worldwide with more than 1,100 employees with its own state-of-the-art manufacturing and test facilities. austriamicrosystems is listed on the SIX Swiss Exchange in Zurich (ticker symbol: AMS). For more information, visit www.austriamicrosystems.com

More from HVAC