LED Driver enables lighting effects in portable applications.
Press Release Summary: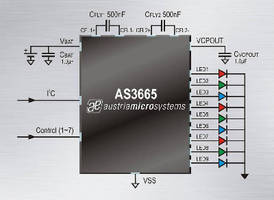 Housed in 2.6 x 2.6 mm WL-CSP package, Model AS3665 offers 9 LED channels with up to 25 mA per channel. Dedicated 12-bit PWM for each channel delivers smooth color effects, enabling linear, logarithmic, and ratiometric fading effects. PWM generators have 3 sequencers and 1.5 kbit memory, allowing storage and processing of complex light patterns without external processors. With audio synchronization feature, color LEDs blink, fade, and change color in time with audio input.
---
Original Press Release:

austriamicrosystems New Funlight LED Driver Adds Fun and Functionality to Portable Applications



The ultimate funlight solution AS3665 enables unlimited freedom in light pattern generation and synchronizes lighting and audio

Unterpremstaetten, Austria (November 18, 2009) - austriamicrosystems (SIX: AMS), a leading global designer and manufacturer of high performance analog ICs for communications, industrial, medical and automotive applications introduces the AS3665 enabling astounding lighting effects in mobile phones and a variety of other consumer applications. The AS3665 delivers sharper color, smoother color effects and superior brightness with a minimum amount of design effort. This new funlight LED driver turns any application such as mobile phones, MP3 players, mobile computers, portable game stations, speaker boxes, toys and any audio equipment into a true eyecatcher.

The AS3665 offers nine LED channels with up to 25mA per channel. A dedicated 12bit PWM for each of the nine channels delivers unchallenged smooth color effects allowing linear, logarithmic and ratiometric fading effects. The PWM generators have three sequencers and a 1.5kbit memory. This allows storing and processing astonishing and complex light patterns without the need for external processors or interaction. The AS3665 allows easy command based programming of all light patterns. To ensure true colors during operation the AS3665 implements several color correction features like automatic RGB color correction by temperature.

AS3665 audio synchronization feature enables colorful programmable light patterns. With this feature, the color LEDs blink, fade and change color smoothly in time with the device's audio input like music or ring tones. The AS3665 synchronizes the LEDs based on the music input. The audio synchronization of the light patterns can be freely adjusted giving a freedom to differentiate and define unique color response fitting to any type of music from heavy beats of hard rock to soft lyrics.

"The mobile phone market is fast moving and customers expect products that stand out. They want to put their own personal touch onto the phone," the product planning team of Samsung Mobile Communication division commented. "austriamicrosystems' AS3665 LED Driver IC enables us to be faster to market by reducing development time and easily create light effects never seen before."

To optimize battery lifetime the AS3665 design includes various power save features. Each channel operates with less the 50mV dropout voltage at 10mA powered by a high efficiency 150mA charge pump with automatic switching between 1:1, 1:1.5 and 1:2 mode. To optimize power consumption driving RGB LEDs, three of the nine channels offer programmable rail switching to choose between battery and CP voltage for higher efficiency allowing independent supply of red and blue/green LEDs.

To accelerate system implementation, the AS3665 offers easy design-in capability with minimal software programming. Additionally a software tool allows fast command based development of light patterns which is as easy as drawing lines on paper. The software output is a compiled file which can be used immediately with the AS3665.

"austriamicrosystems has always been a leap ahead in bringing exciting new functionality to market for mobile phone manufacturers and other consumer electronics. Our AS3665 funlight driver enables systems designers to offer users more fun and functionality than ever before. This new product truly brings light into the sound of portable devices," said Bruce Ulrich Marketing Director of Consumer and Communication BU. "The AS3665 joins austriamicrosystems' broad portfolio of lighting products of flashlight, backlight, funlight, and dot matrix drivers, as well as powerful Lighting Management Units."

The AS3665 is available in a small 2.6x2.6mm 25-bump WL-CSP requiring only a minimum external components.

For further information about austriamicrosystems new LED IC funlight solution please visit austriamicrosystems.com/LED/AS3665

The AS3665 is priced at $2.54 each in 1,000-unit quantities.

About austriamicrosystems

austriamicrosystems is a leading designer and manufacturer of high performance analog ICs, combining more than 27 years of analog design capabilities and system know-how with its own state-of-the-art manufacturing and test facilities. austriamicrosystems leverages its expertise in low power and high accuracy to provide industry-leading customized and standard analog products. Operating worldwide with more than 1,000 employees, austriamicrosystems focuses on the areas of power management, sensors & sensor interfaces and mobile infotainment in its markets Communications, Industry & Medical and Automotive, complemented by its Full Service Foundry activities. austriamicrosystems is listed on the SIX Swiss Exchange in Zurich (ticker symbol: AMS). For more information, please visit www.austriamicrosystems.com

For further information

Press Contact

austriamicrosystems AG

Ulrike Anderwald

Marketing Communications Manager

Tel: +43 (0) 3136 500 5856

Fax: +43 (0) 3136 500 5420

press@austriamicrosystems.com

www.austriamicrosystems.com

Technical Contact

austriamicrosystems AG

Rene Wutte

Lighting Marketing Manager

Tel: +43 (0) 3136 500 5653

rene.wutte@austriamicrosystems.com

www.austriamicrosystems.com

More from Architectural & Civil Engineering Products