LED Display delivers resolutions up to 4096 x 2160 pixels.
Press Release Summary: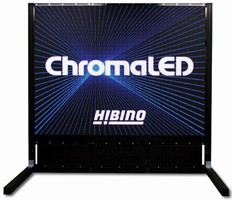 Featuring 6 mm pixel pitch screen, ChromaLED(TM) 6B series is powered by DLC-612 processor and uses 14-bit color processing. Product comes in standard sizes of 38, 120, 150, and 200 in. as well as custom-designed sizes. Each LED element has black lens, and display offers max transfer rate of 24 Gbps for ultra-wideband serial transmission. Processor maintains compatibility with conventional processors to display 3, 4, 6, or 10 mm pixel pitch screens.
---
Original Press Release:

Hibino Launches Newly Developed 'DLC-612' and 'ChromaLED 6B'



Tokyo, JAPAN - June 14, 2006 - Hibino, a leader in high resolution full color LED displays, announces the new DLC-612 processor that displays up to 4k x 2k (horizontal 4096 pixels x vertical 2160 pixels) and a 6mm pixel pitch screen, with a contrast ratio 3 times higher and equipped with a black lens, as part of the new LED Display solution ChromaLED series *³. The new LED display is available in various standard sizes, namely 38, 120, 150 and 200 inches, with other sizes custom-designed on request. DLC-612 maintains compatibility with conventional processors to display conventional ChromaLED LED screens, such as 3mm, 4mm, 6mm or 10mm pixel pitch screens.

"Hibino Corporation, The Sound & Visual Specialists, is intending to expand its LED display business.", said Terry Hibino, President and CEO, "The new products announced today will be a catalyst to execute the business strategy."

"With a combination of a New 6mm LED display "ChromaLED 6B" and a new ChromaLED processor, DLC-612, it achieves a high contrast picture, thanks to the black lens on each LED element and also pictures reproduced over a wide color range, made possible thanks to the use of 14 bit color processing.", said Stan Nomaki, Managing Director.

"ChromaLED is known as the best quality LED display and the introduction of those new products consolidates our market position. I am proud of our R&D team for achieving the world's highest resolution 4096 x 2160 pixel screen, which is realized by using a maximum transfer rate of 24Gbps for ultra-wideband serial transmission. The DLC-612 has been developed to meet all market requirements and includes a variety of functions for our clients to enjoy installations and produce creative displays, which application includes rentals for various sport or show events and fixed installations in commercial facilities." Stan Nomaki continued.

o PRICE & AVAILABILITY

ITEM              MODEL            DESCRIPTION                PRICE        AVAILABILITY



ChromaLED 6B

(120 inches     LVD-6120B    W:2.340mm×H:1.728mm×D:100mm      Open         End of August

for fixed                       384dots x 288dots

installation)



ChromaLED 6B

(150 inches     LVD-6150B    W:3.072mm×H:2.304mm×D:100mm      Open         End of August

for fixed                       512dots x 384dots

installation)



ChromaLED 6B

(200 inches     LVD-6200B    W:3.840mm×H:2.880mm×D:100mm      Open         End of August

for fixed                       640dots x 480dots

installation)



ChromaLED 6B

(38inches       LVD-638B     W:768mm x H:576mm x D:186mm      Open         End of August

for rental)                     128dots x 96dots



ChromaLED 6B

(strip type     LVD-605B     W:960mm x H:96mm x D:90.7mm      Open         End of August

for rental)                     160dots x 16dots

Note: Different screen sizes and configurations are available on request.

About Hibino:
Hibino takes pride in being "The sound and visual specialists" and is a leader in the field of professional audio and visual equipment, providing a total package of services including system design, construction and installation, as well as equipment sales, operation and rental. Hibino's proven leadership in these fields has earned us a high reputation in the industry. Hibino's shares, ticker number 2469, are listed on the JASDAQ Securities Exchange. Additional company information is available at: www.hibino.co.jp/gmc/english/index.html .

As for information on JASDAQ, please refer to their web site at: http://www.jasdaq.co.jp/guide/guide_e.jsp

*3 ChromaLED is a trademark of the LED display of Hibino Corporation.

For more information contact:
Worldwide Sales Contact
Kazushige Kanno
Hibino Corporation
+81-3-3740-3741
Kazushige_kanno@hibino.co.jp

European Sales Contact
Kris Delafontaine
+32-475-272-822
Kris_delafontaine@hibino.co.jp

North America Sales Contact
Takumi Koyama
Photopiea Industries, Inc.
+1-562-926-8001
chromaled@photopiea.com

More from Material Handling & Storage