LED Conveyor System Offers Consistent, Fast Curing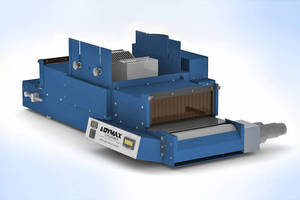 Torrington, Connecticut – Dymax Corporation's UVCS LED light-curing conveyor system offers consistent, fast, safe, and efficient LED curing.  It's a versatile, mesh belt-type conveyor that is designed for bench- or table-top operations.  The system can accommodate up to four BlueWave® LED flood arrays, and includes a choice of three different wavelengths (365 nm, 385 nm, or 405 nm).  Consistent line speed, adjustable lamp height, and stable intensity provide a repeatable, uniform light-curing process for optimized throughput, and the conveyors are easy to operate and maintain.  They are environmentally friendly with no ozone generation, mercury-free lamps, and less energy consumption than conventional UV-curing lamps.



The conveyors are designed for curing LED-curable adhesives, coatings, and inks that react in the UVA and/or visible spectral ranges, and offer curing widths of up to 10" on a 12" wide platform.  The units have adjustable belt speeds of 1 to 32 fpm, and adjustable lamp-to-belt distance to address a variety of application requirements.



Dymax Corporation develops innovative oligomer, adhesive, coating, dispensing, and light-curing systems for applications in a wide range of markets.  The company's products are perfectly matched to work seamlessly with each other, providing design engineers with tools to dramatically improve manufacturing efficiency and reduce costs.  Major markets include aerospace, appliance, automotive, electronics, industrial, medical device, and metal finishing.



For additional information, visit www.dymax.com or contact Dymax Application Engineering at info@dymax.com or 860-482-1010.