LED Closet Lighting Kit can be trimmed to needs on site.
Press Release Summary: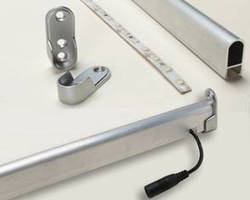 Available for new or existing residential or commercial closets and storage locations, clear anodized aluminum LED Closet Rod Light Kit comes with closet rod, LED ribbon flex lighting strip, and 2 mounting brackets. Supplied lengths of 3, 4, and 5 ft can be trimmed as needed in 2 in. increments while on job site. Delivering cool white (6,500K) light with 120° beam spread and ~50,000 hr bulb life, kit also supports various options: power supply, IR door sensor, and manual on/off switch.
---
Original Press Release:

Outwater Introduces Its Newly Updated LED Closet Rod Light Kit



Designed to accommodate all types of closet lighting requirements, Outwater's aluminum LED Closet Rod Light Kit can be easily trimmed right on the job site as needed in 2-in. increments for a trouble-free, "made-to-order" installation and comes complete with a closet rod, an LED ribbon flex lighting strip, and two mounting brackets.



Bogota, NJ –



And let there be light… in your closet!



Outwater's Outwater Plastics Industries, Inc. + Architectural Products by Outwater, LLC newly updated LED Closet Rod Light Kit will conveniently and unobtrusively illuminate one's closet, clothing and other belongings as never before!



Designed to be aesthetically employed in new or existing residential or commercial closets and storage locations, Outwater's clear anodized aluminum LED Closet Rod Light Kit is offered in 3-ft., 4-ft. and 5-ft. lengths that can be readily trimmed right on the job site as needed in 2-in. increments for a trouble-free, "made-to-order" installation and comes complete with a closet rod, an LED ribbon flex lighting strip, and two mounting brackets.



Delivering cool white (6,500K) lighting with a generous 120° beam spread, Outwater's LED Closet Rod Light Kit is ultra-energy efficient, yet consumes only a few watts, with an approximate 50,000 hour bulb life.



Optional complementary accessories comprise a Power Supply, an Infrared Door Sensor that automatically turns Outwater's LED Closet Rod Light on and off, and an On/Off Switch to enable further customization as desired.



With the ever-increasing significance closets have come to play everyone's day-to-day life, it is no wonder that a dim, bare incandescent bulb jutting from an antiquated pull string light fixture simply will not suffice in today's closets.



The modern closet has further evolved with the introduction and implementation of many smart hideaway storage and organizational accessory components intended to tackle the issue of limited space by allowing one to take full advantage of every "nook and cranny" one's closet has to offer.  Needless to say, optimal closet lighting is also a necessity.



About Outwater [Outwater Plastics Industries, Inc. +

Architectural Products by Outwater, LLC:



Outwater can be contacted Toll Free at 1-800-631-8375 (for sales and product information in the USA & Canada) / 1-201-498-8750 (for sales and product information outside of the USA & Canada) or viewed online at www.outwater.com.



Outwater was founded as a brick and mortar company in August 1972 to provide small and midsized furniture and cabinet builders with a reliable source from whom they could purchase plastic extruded profiles in the amounts that reflected their actual requirements rather than the substantial minimum quantities that were dictated by the majority of extrusion manufacturers.



From the vendor of a single product line, Outwater, with sales and distribution facilities in New Jersey and Arizona, is an international manufacturer and distributor of more than 65,000 traditional and innovative products required by woodworkers, cabinet and furniture manufacturers, builders, remodelers, designers, architects, point-of-purchase and display fixturing manufacturers, OEM's, and retail consumers.



Major product categories include interior & exterior architectural mouldings & millwork; columns & balustrades; wrought iron components; decorative stamped ceiling panels & backsplashes; wainscoting; wall coverings; fireplace surrounds; ornamental wood carvings; period & contemporary hardware; kitchen cabinetry; home organization systems; plastic & aluminum extruded profiles; lighting; furniture, cabinet & store fixture components; knobs & pulls; point-of-purchase components; display & exhibit systems; sign components… and so much more!



Contact:

Joey Shimm, Director of Marketing

Outwater Plastics Industries, Inc. +

Architectural Products by Outwater, LLC

joeyshimm@outwaterplastics.com

(201) 498-8750

More from Machinery & Machining Tools