LED Ceiling Luminaires replace T-bar fluorescent fixtures.
Press Release Summary: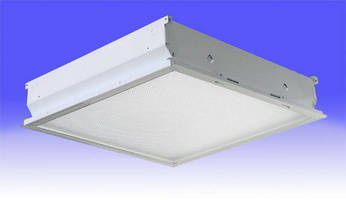 Designed to replace 64 and 80 W fluorescent fixtures, respectively, 24 W CLL2X2-400-TPW-001W and 36 W CLL2X2-800-TPW-001W deliver solid-state 5,000 K pure-white lighting with beam intensities of 1,840 and 2,753 lumens. They feature 22 ga, cold-rolled steel housing with baked white-polyester finish and clear prismatic acrylic lens in 20 ga steel frame with T-hinge and positive spring-loaded latch. RoHS compliant units offer life of over 50,000 hr and operate in -22 to +104°F temperatures.
---
Original Press Release:

LED Recessed Ceiling Luminaire Fixtures Promote Energy Efficiency While Providing Long-Life and Maintenance-Free, Low-Temperature Operation



Torrance, Calif. - LEDtronics, Inc.®, has introduced LED replacements for recessed T-bar fluorescent ceiling luminaires: CLL2X2-400-TPW-001W uses only 24W power and replaces 2ftx2ft standard fluorescent 64W units, while CLL2X2-800-TPW-001W consumes less than 36W and replaces 80W fluorescent fixtures. They operate on a voltage range of 100-277VAC, providing solid-state 5000K pure-white lighting that creates less heat compared to conventional lighting, reducing air conditioning demands in offices, closets, hallways, classrooms, work rooms, conference rooms and other retail or commercial indoor lighting locations.

The LEDtronics luminaires offer up to 300% longer lifespan compared to fluorescent lamps, using up to 50% less energy than standard fluorescent 2'x 2' panels, without compromising on performance. The CLL2X2-400-TPW-001W provides a bright beam of 1,840 lumens, with an efficient power factor of 1.0, while the CLL2X2-800-TPW-001W offers 2,753 lumens and a power factor of 0.99. Both deliver a high Color Rendering Index of 75 that enhances all colors in the lighting environment.

The luminaires are easily installed using existing T-bar recessed 2ft×2ft module light fixtures, and are solidly constructed featuring a 22-gauge, cold-rolled steel housing with baked white-polyester finish; clear prismatic acrylic lens in a 20ga steel frame, with T-hinge and positive spring-loaded latch.

The housing and power supply are UL-rated, and the units are compliant with Restriction of Hazardous Substances Directive (RoHS), making them human- and environment-friendly, free of lead, mercury or other toxic metals. They also are free of harmful ultraviolet or infrared emissions as well as RFI/EMI/HD - problems related to fluorescents in hospital radiology areas, sensitive instruments, etc.

"The CLL2X2-TPW Series boasts an optical and solid-state LED design that creates a high-intensity, flicker-free, buzz-free and totally glare-free environment," said Pervaiz Lodhie, LEDtronics president and CEO. "With their tremendous energy-saving potential, natural-looking light and elegant 2-sq.-ft form, they provide architects and lighting designers high efficiency and flexibility for suspended-ceiling applications traditionally addressed by linear fluorescents."

The LEDtronics fixture units come with a three-year full warranty. Because LEDs have no breakable glass nor toxic gases, their solid-state design renders them impervious to shock, vibration, frequent switching and environmental extremes. With an average lifespan of more than 50,000 hours (5.7-plus years), these maintenance-free LED luminaires eliminate repeated relamping, and operate in ambient room temperatures of -22°F to +104°F [-30°C to +40°C], providing much better performance in cold freezer-type applications.

For additional information on how to incorporate the LEDtronics 24-inch-square recessed T-bar fluorescent ceiling luminaire replacements - CLL2X2-400-TPW-001W (replaces standard fluorescent 64W units, retails for $485.00) and CLL2X2-800-TPW-001W (replaces standard fluorescent 80W units, retails for $645.00) - into your facility lighting plans or architectural designs, contact LEDtronics toll free at 1-800-579-4875, telephone 310-534-1505, fax at 310-534-1424, email us at webmaster@ledtronics.com or postal mail at LEDtronics, Inc., 23105 Kashiwa Court, Torrance, CA 90505. Quantity discounts are available for qualified distributors. Availability is stock to 6 weeks.

For more details and technical data, visit the product's direct web link: http://www.ledtronics.com/Products/ProductsDetails.aspx?WP=C898K869

About LEDtronics®

Founded in 1983, LEDtronics leads where others only follow when it comes to designing, manufacturing and packaging state-of-the-art LEDs to meet the world's constantly changing lighting needs. Our inventive product line encompasses an array of direct incandescent lamp replacement Based LEDs, low-cost snap-in and relampable Panel Mount LED's, high intensity sunlight-visible Discrete LEDs, PCB LEDs circuit board status indicators, surface mount diodes SMT LEDs, full-spectrum rainbow RGB LEDs and Infra-Red (IR) LEDs.


More from Laboratory and Research Supplies and Equipment