LED Canopy Luminaires offer flat or prismatic drop lens.
Press Release Summary: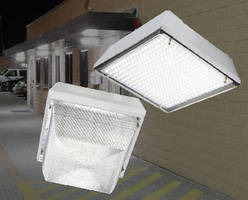 Constructed with die-cast aluminum housing and polycarbonate prismatic or clear lens, SLL021-XPW LED Canopy Lights are suited for indoor and outdoor applications. Units come in 49 W for replacing up to 250 W HID, or 89 W for replacing up to 400 W HID. Operating from 100–277 Vac at temperatures from -40 to +122°F, wide-beam luminaires provide 5,000–5,700 K pure white lighting with luminosity from 4,925–9,950 lm. Solid-state units are DLC-listed, ETL-listed, and ROHS-compliant.
---
Original Press Release:

High-Power, Wide-Beam LED Canopy Luminaires Reduce Lighting Costs



Torrance, Calif., – LEDtronics® Inc. announces its latest series of DLC, ETL-listed LED Canopy Lights with a choice of flat or prismatic drop lens for both indoor and outdoor applications. With energy savings of up to 75 percent, the wide-beam lamps come in two wattages: 49W for replacing up to 250W old-technology HID, or 89W for replacing up to 400W HID.



The lights are ideal for outdoor locations such as gas stations, loading docks, parking areas, entrances, walkways, underpasses and recreation areas. Even though the brightness of LED Canopy Lights is equal to or greater than the HID lamps they replace, they create much less heat in comparison, reducing air conditioning demands in indoor applications such a manufacturing and factory floors or warehouses.



The new luminaires provide 5000K to 5700K pure white lighting that offers luminosity ranging from 4925 to 9950 lumens. They operate on a wide voltage range of 100-277VAC, as well as a wide operating temperature range of -40°F to ~+122°F.



The series of long-lasting, solid-state canopy lights are easily installed using four attached quick-mounting brackets provided with the unit. They feature input power surge protection and electronic instant-on light with no delay in re-strike. The units are constructed with durable, die-cast aluminum housing and polycarbonate prismatic or clear lens. Their solid state construction renders them impervious to shock, vibration, frequent switching and environmental extremes.



These DLC-listed, ROHS-compliant, ETL-listed LED luminaires contain no harmful gases or toxic elements. The Canopy units are USA-made and meet the "Buy American" requirements within the ARRA program.



Unlike traditional metal halide or high-pressure sodium units, LEDs emit little to no ultraviolet or infrared light or RFI emissions. Since these luminaires are much more energy efficient than old-technology lamps, they are perfect for operating with an alternative or renewable energy resource such as solar or wind power in cold or warm environments.



"With their tremendous energy-saving potential, durability, high-intensity but natural-looking light, and versatility in indoor and outdoor flush-mounted or suspended-ceiling applications, this new series provide architects and lighting designers an easy decision when it comes to replacing traditional Metal Halide or HPS lights," said Pervaiz Lodhie, LEDtronics President and CEO. "The long sustainability factor of our product eliminates repeated relamping of traditional lighting, offering tremendous savings on energy and maintenance costs."



The SLL021-XPW LED Canopy Light comes with a 5-year LEDtronics warranty. The series of lights are available through LEDtronics distributors, and quantity discounts are available to qualified distributors.



For additional information on how to incorporate these economical, energy-saving LED canopy lights into your facility lighting plans or architectural designs, contact LEDtronics by...



Phone: 1-800-579-4875

E-mail: info@ledtronics.com

Fax: 310-534-1424

Postal mail: LEDtronics, Inc., 23105 Kashiwa Court, Torrance, CA 90505



About LEDtronics®

Since 1983, Torrance, California-based LEDtronics Inc. has been a world leader in designing, manufacturing and packaging high-quality, state-of-the-art LED lighting products for industries and customers of all kinds, including 80 percent of the Fortune 500. The company's vast array of products includes LED Tube Lights, Downlights, Post Tops, Canopy Fixtures, Flood Lights, Street Lights, Bay Lights, Indicator Lights, and thousands more. Directly replace your old-technology lighting with energy-efficient LED lights from the industry pioneers, LEDtronics.



For more details and technical data, visit the product family web page:

http://www.ledtronics.com/Products/ProductSearch.aspx?searchStr=sll021

More from Construction Equipment and Supplies