LED Bulkhead Luminare is lightweight and explosion-proof.
Press Release Summary: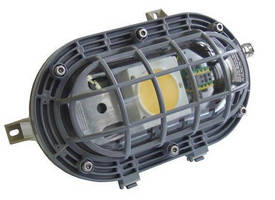 Energy-efficient AB 05 LED luminaire is certified for use in Zone 1 and Zone 2 explosive gas atmospheres and Zone 21 and Zone 22 explosive dust atmospheres, in accordance with ATEX standards. It has aluminum alloy IP66 enclosure and 2 W LED module with integrated driver, providing 2,000 lumen in task area. Ceiling or wall-mounted and shock- and vibration-resistant, unit suits applications with low and medium suspension heights and operates over -40 to +55°C temperature range.
---
Original Press Release:

New Energy Efficient Ex LED Bulkhead Luminaires are Lighter and Easier to Install



COOPER Crouse-Hinds has extended its popular range of explosion protected AB 05 Ex bulkhead light fittings for incandescent and high pressure discharge lamps, to include a new LED version. This LED option is certified for use in explosive gas atmospheres (Zone 1 and Zone 2) and explosive dust atmospheres (Zone 21 and Zone 22), in accordance with ATEX standards.

The AB 05's innovative new LED technology provides a range of benefits for customers, including energy savings over the life of the luminaire, high light yield and efficiency, optimum light distribution for low and medium suspension heights, IR- and UV-free light source, as well as cost savings due to longer maintenance intervals. The lamps are also environmentally friendly, as they contain no mercury.

The AB 05 LED luminaire can be ceiling or wall-mounted and is shock- and vibration-resistant, making it suitable for areas that require low profile, safe and reliable lighting, including gangways, corridors, stairwells and storage areas, as well as for use in areas where the available space is restricted. The lamps are also ideal for low temperature applications that require instant illumination from start up.

Due to its robust design and aluminium alloy IP66 enclosure with integrated guard and impact-resistant dome-shaped glass, the AB 05 LED bulkhead luminaire is also suitable for use in harsh and hazardous environments, damp and dusty ambient conditions such as offshore oil and gas, petrochemicals and chemical plants, where explosive atmospheres are also prevalent. Other target industries include pharmaceuticals, food processing, grain, oil refineries and waste water treatment plants.

Gordon Low, OEM Sales Engineer At COOPER Crouse-Hinds UK Ltd comments: "The AB 05 LED luminaires use an energy efficient 32W LED module with integrated driver. This provides 2000 lumen in the task area, which is equivalent to a 150W incandescent or a 50W mercury vapour lamp. The light fittings are also easy to install and weigh just 7kg."

The AB 05 LED bulkhead luminaire can operate in ambient temperatures from -40 deg C up to 55 deg C and is certified for temperature class T6.

As a leading manufacturer of light fittings for use in hazardous gas and dust areas, COOPER Crouse-Hinds understands the product development phase better than most suppliers. The company has already invested millions of pounds in the construction of its own LED research and development centre in the USA. Built in 2008, this R&D centre combines the LED efforts of all the various COOPER lighting divisions into one common LED platform, using this know-how to build reliable LED lighting systems and to constantly remain on top of this emerging technology.

For more information on COOPER Crouse-Hinds' AB 05 Series of LED bulkhead luminaires, please contact the UK sales office on 02476 308930 or email sales@ceag-crouse-hinds.co.uk or visit www.ceag.de.

COOPER Crouse-Hinds (UK) Ltd

As part of the COOPER Industries Group, COOPER Crouse-Hinds (UK) Ltd is the number one company in the field of explosion protection. Committed to technological progress, the company develops and manufactures a range of products that cover all the requirements currently placed on modern, explosion-protected, electrical installation technology, including illumination, safeguarding, signalling, controlling, instrumentation and distribution of electrical energy in potentially explosive atmospheres. In the company's production plants in Germany, England and Spain, the company manufactures a wide range of products for explosion protection.

COOPER Crouse-Hinds supplies products that comply with all the latest directives and standards - worldwide. In addition to systems and components built to ATEX standards, the company also provides solutions that have been certified to both IEC and NEC standards. Moreover, the company also has a large number of other national approvals, e.g. for Eastern European countries, China and North America. With COOPER Crouse-Hinds you can get all you need from one source.