LED Bulbs offer alternative to incandescent bulbs.
Press Release Summary: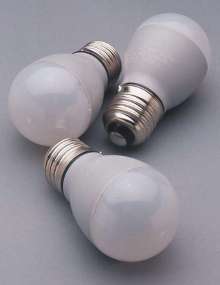 LED Festoon Bulbs are housed in lens that uses sun's UV rays to produce glow, even when lamps are not powered up. Lambertian lighting pattern provides even distribution of light. With lamps lasting up to 100,000 hours, bulbs can replace incandescent bulbs in indoor and outdoor applications. Requiring 2.5 W of energy and operating within 90-250 V range, bulbs feature flame retardant materials, inrush current moderation, temperature control, and fuse adaptive links.
---
Original Press Release:

Mule Introduces New Led Festoon Bulbs for Energy-Efficient Decorative Indoor, Outdoor Lighting


-- 2.5 Watt Alternative to 60 Watt Painted Incandescent Bulbs
-- Specially Formulated Lens Material Reflects UV Rays for Daytime "Glow" without Power
-- For New Applications or as Replacements for Incandescent Bulbs

Providence, RI -- New LED Festoon bulbs, available from Mule Lighting, Inc., offer a cost- and energy-saving alternative to painted incandescent decorative lighting for both indoor and outdoor use. Requiring just 2.5 watts of energy, the LED Festoon lamps are housed in a specially formulated lens that utilizes the sun's UV rays to produce a glow--even when the lamps are not powered up--offering additional energy savings. The bulbs are available for new applications, or as direct, screw-in replacements for existing incandescent bulbs.

With lamps lasting up to 100,000 hours, LED Festoon bulbs are a practical alternative to incandescent outdoor building lighting, requiring significantly fewer bulb changes and service calls. The bulbs feature a lambertian lighting pattern, which provides an even distribution of light. Directed by its specially designed high-collar casing, the LED Festoon's light produces maximum contrast against building facades. When the bulb is attached to the exterior of a building along window glass, its functional design does not allow for ambient light to enter the interior space. Operating at lower temperatures than conventional lighting sources, the bulbs are safe to use around flammable materials and at street level, where they could come into contact with passersby.

Available in a variety of colors, the LED Festoon bulbs offer architects, interior designers and decorative landscapers a long-term, cost-effective option for developing sculptural and accent lighting displays. The bulbs can be ordered from Mule in solid colors, including white, red, blue, green and amber, and color combinations such as blue-green and red-amber.

Mule's LED Festoon bulbs were developed with several safety and operation features, including flame retardant manufacturing materials, inrush current moderation, temperature control, fuse adaptive links and a fully potted power supply. Designed with built-in Universal mains voltage, the bulbs can operate within a voltage range of 90 to 250 volts. The solid state bulbs from Mule can withstand temperatures from -30 degrees to 150 degrees Fahrenheit.

Mule Lighting, Inc., is a custom manufacturer of quality lighting and battery related products, including Exit Signs, Emergency Lighting, Battery UPS Systems, Battery Chargers and Rechargeable Batteries. Mule's line of patented LED (light emitting diode) bulbs offers energy saving and cost-efficient alternatives to traditional incandescent lighting fixtures. Several of Mule's patented lighting options have earned the Energy Star of approval for conservation. Mule is the winner of a prestigious Building Magazine Top 100 Products Award, and their LEDison(r) LED bulb was named one of TED Magazine's Lighting Products of the Year.

For additional product information, contact:
Mule Lighting, Inc.
46 Baker Street
Providence, RI 02905
Tel: (800) 556-7690 or (401) 941-4446
Fax: (401) 941-2929
Website: www.mulelighting.com

More from Communication Systems & Equipment