LED Bollards provide energy-efficient outdoor illumination.
Press Release Summary: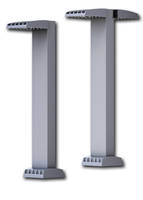 Available in single-head (RZRB1) and twin-head (RZRB2) models, Razar LED Generation Bollard come in 3000K, 4000K, and 5000K color temperatures and feature 5 asymmetric PLED optical panels that can be replaced in field and rotated in 90° increments. Each bollard stands 42 in. high and is constructed of heavy-duty cast aluminum for environmental durability. With 175 and 350 mA drive currents, RZRB1 (12–22 W) delivers perimeter illumination while RZRB2 (22–44 W) is suited for open areas.
---
Original Press Release:

U.S. Architectural Lighting Introduces New Razar LED Generation Bollard



PALMDALE, CA  –  U.S. Architectural Lighting's sleek new Razar LED Generation Bollard is the latest model in the company's Razar LED Generation of outdoor fixtures, which also includes area lighting and wall mounted luminaires.



The Razar LED Generation Bollard is available in single and twin head models. The RZRB1 (single head) is designed for pathways and driveways where perimeter illumination is desired. The RZRB2 (twin head) is suitable for open areas, such as plazas, where illumination is required on all sides of the bollard.



Razar LED Generation Bollards share five asymmetric PLED optical panels also used in Razar LED pole mounted and wall mounted luminaires. The PLED optical modules are field replaceable and rotatable in 90° increments.



Color temperatures are offered in 3000K (warm white), 4000K (neutral white /standard) and 5000K (cool white). Drive currents are 175mA and 350mA, creating light levels on par with 50W to 70W HID in the RZRB1 (12W to 22W LED) and levels on par with 70W to 100W HID in the RZRB2 (22W to 44W LED).



The bollard stands 42" high and heavy-duty cast aluminum construction ensures durability in all environments. Razar LED Generation heat management technology, including low drive currents and robust cooling fans, keeps the fixture's surface temperature cool to the touch, even after hours of operation.



The bollards are offered in five textured finishes: black, white, grey, dark bronze and green. Custom colors are also available. An optional battery-driven emergency LED driver provides 40% to 90% of the full illumination for 90 minutes (depending upon the drive currents specified).



U.S. Architectural Lighting's Razar LED Generation features a unified design with optical components and capabilities that are consistent throughout the line, including field rotatability and replacement, range of drive currents and dimming.



For more information on the Razar LED Generation, visit U.S. Architectural Lighting's website at http://www.usaltg.com/Products/Featured/RZR.html or call 800.877.6537 for a free brochure.



U.S. Architectural Lighting is a leading manufacturer of outdoor lighting and has served the electrical industry for more than 30 years. All products are entirely manufactured in the U.S.A. to ensure consistent quality, ready inventory and timely shipping.

More from Software