LED Bollard Lights are IP65 rated.
Press Release Summary: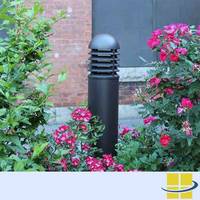 Offered in 25w and 35w and Kelvin temperatures of 3000K, 4000K, and 5000K, MARI LED Bollard Lights emit light in 360-degree circle. Unit's heads and louvers are made of die-cast aluminum and bases are marine-grade coated. Products are rated at 50,000 hours and deliver 1,500 lumens at 25w and 2,500 lumens at 35w. MARI meets AAMA 2605 marine-grade standards.
---
Original Press Release:
Access Fixtures Launches New Marine-Grade, Vandal-Resistant LED Bollard Lights
Access Fixtures releases a new class of double-coated, marine-grade, louvered LED bollard lights. These fixtures are part of the "MARI" family at Access Fixtures and are ideally suited for coastal environments and waterfront applications. Whether being installed near the ocean, docks, walkways, marinas, or lakeside areas, these lens-free, marine-grade bollards have an IP65 rating that makes them tough. The MARI bollards boast impressive efficacies and outputs at a terrifically low price. Their inner and outer marine-grade coatings mean they are able to stand up to salt spray and humidity for a long period of time. These LED bollards are available in 25w and 35w and Kelvin temperatures of 3000K, 4000K, and 5000K.
These vandal-resistant fixtures are extremely durable; their heads and louvers are built from die-cast aluminum and bases are coated with a strengthened, marine-grade coating. Each MARI is rated at 50,000 hours, representing an energy-efficient, long life. At 25w, these fixtures deliver 1,500 lumens, and at 35w MARI LED bollards, they deliver 2,500 lumens. Both models emit light downward through tough metal louvers that send light in a 360-degree circle.
"Bollard lights able to withstand the rough conditions of coastal locations are often too expensive for most customers," says Alex Guarco, operations manager at Access Fixtures. "The twice-coated MARI bollard lights represent a durable, cost-conscious way to safely illuminate coastal areas."
The top three features of these bollards are their die-cast aluminum housings and louvers; their vandal-resistant, no-lens design; and, of course, their marine-grade coatings. These coatings (both inside and outside the bollards) meet AAMA 2605 marine-grade standards. The lens-free design of these units makes them more difficult to vandalize and better able to prevent condensation and salt accumulation/damage.
With the MARI LED bollard light family, Access Fixtures makes it easy and affordable to safely light your property, no matter how close to a body of water you are. To find out if these are suitable for your project, speak to an Access Fixtures lighting specialist team today at 800-468-9925.
About Access Fixtures
Access Fixtures offers factory­-direct commercial, industrial, hospitality, and sports lighting. Luminaire types include wall packs, area lights, bollard lights, garage lighters, vandal-­resistant lights, exit and emergency lights, high bays, low bays, and vapor-tight luminaires. For more information, visit Access Fixtures at www.accessfixtures.com.
Url: http://www.accessfixtures.com
Related