LED Bollard illuminates pedestrian spaces.
Press Release Summary: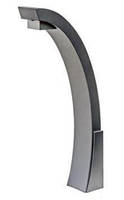 Featuring arched profile and rectangular shaft crafted with concealed anchor bolts and absence of visible welds, PARCO LED Bollard consumes 11 W and is available with 3000K or 4000K LED light engine with CRI >80. Optics provide uniform, effective illumination for pathways up to 10 ft wide, and bollards may be spaced on 15–21 ft centers to satisfy IES recommended light levels and uniformity requirements. Fully shielded luminaire emits zero uplight.
---
Original Press Release:
HessAmerica Introduces PARCO LED Bollard
New Product Introduction: PARCO Bollard—Architectural bollard delivers effective illumination with low power consumption using the latest LED technology.

Product Design: HessAmerica

Manufacturer: HessAmerica, U.S. subsidiary of Hess GmbH Licht+Formof Germany and amember of The Nordeon Group.

Product Applications: The PARCO bollard illuminates pedestrian spaces with state-of-the-art LED illumination. Applications include parks, arboretums, cultural centers, entry plazas for upscalemalls or entertainment venues. It is well suited for emphasizing building entrances and pedestrian gathering areas found on corporate campuses, universities, city centers, and transportation facilities.

Product Description: The PARCO bollard adds visual impact to outdoor spaces with its gracefully arched profile. The rectangular shaft is crafted with refined styling details such as concealed anchor bolts and an absence of visible welds. The semi-regressed luminaire is nestled within the bollard, preserving its slender form. Optics for the PARCO bollard are optimized to provide uniform, effective illumination for pathways up to 10' wide. The bollard may be spaced on 15' to 21' centers, satisfying IES recommended light levels and uniformity requirements for applications ranging from walkways in parks to sidewalks in urban and commercial settings.

The fully shielded luminaire emits zero uplight and is suitable for all LEED lighting zones and Dark Sky applications. Color temperatures are available in a choice of warmor neutral white color temperatures with a CRI greater than 80. Power consumption is 11 watts.

The PARCO family of products includes a polemounted luminaire with heights of 10', 12', or 14' overall to provide a consistent design theme throughout a site.

Construction and Finishes: The PARCO luminaire housing is fabricated from aluminum nestled within the bollard shaft for a semi-flush installation. The sealed enclosure houses the LED light engine and includes an integral electronic LED driver. The lens is clear flat tempered glass. The shaft is fabricated from 6061-T6 aluminum with nominal wall thickness of 0.125" and has a rectangular cross-section of 6" x 2.25". Overall height is 37.5". The base of welded construction is integral to the shaft and conceals the anchor bolts when installed. Removable door at the rear provides access to the anchor bolts and incoming power. A triangular tamperresistant locking device prevents unauthorized entry. Standard colors are matte silver grey metallic, dark grey, or graphite grey. Special colors are available in request. All hardware is stainless steel.

The LED light engine is available in 3000K or 4000K color temperatures, with a CRI greater than 80. It is also available in amber with dominant wavelength of 585-595 nanometers for special applications. High power factor electronic universal LED driver accepts 120v through 277v at 50 or 60 Hertz. Power consumption is 11 watts. Optional 0-10v dimming is available on request.

Contact Information: Literature and specifications for PARCO, or other original Hess outdoor architectural lighting products, are available by contacting authorized HessAmerica professional, independent lighting-sales representatives at www.hessamerica.com/About_us/Representative/. Website: www.hessamerica.com.
More from Computer Hardware & Peripherals