LED-BASed 120 Vac Lamp replaces 120MB incandescent bulbs.
Press Release Summary: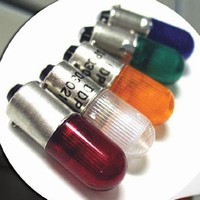 Designed to help lower power consumption and maintenance, 120MBLS-X-CX 120 Vac line voltage lamp has operating life upwards of 100,000 hr and is suited for industrial indicator lighting applications. Wide-angle LED operates to 130 Vac (max) while drawing less than 8 mA, and included shunt resistor eliminates transient current and prevents false positive indication by LED. With typical light output of 15lm, lamp comes in red, amber, blue, green, and white.
---
Original Press Release:

DDP's 120VAC Lamp Designed to Replace 120MB Incandescent Bulb



DDP 120VAC lamp lowers power consumption by 85%...

EL SEGUNDO, Calif. (September 23, 2008) - DDP, a leader in engineered LED solutions, has developed a 120VAC line voltage lamp that reduces power consumption and maintenance costs. Designated the 120MBLS-X-CX, the wide-angle LED operates to maximum of 130VAC, while drawing less than 8mA - 85% lower than the power consumption of a standard 120MB incandescent light bulb. Additionally, the lamp features a shunt resistor to eliminate transient current and prevent a false positive indication by the LED.

"Our energy-efficient 120VAC lamp consumes power at a low level and features an operating life of upwards of 100K hours, making it an ideal replacement of 120MB incandescent bulbs in most any industrial indicator lighting application," said Tony Toniolo, DDP President. "Unlike incandescent bulbs, LEDs are not subject to catastrophic failure when operated within design parameters, making it a reliable device with a life of up to 100K hours. An incandescent bulb generates heat as well as light and as a result the standard incandescent bulb has an unpredictable lifetime due to risk of filament burn out."

The 120MBLS-X-CX is well suited for a variety of indicator applications and is available in a variety of color options including red, amber, blue, green and white. Typical light output is 15lm, comparable to the 120MB incandescent.

Pricing is $9.00 a piece in quantities of 100 with the option to include multiple colors in one order. Delivery time is one week.

For more information, or to talk to one of DDP's LED engineering experts, contact DDP at 445 South Douglas Street, El Segundo, California 90245-4630; e-mail techsupport@ddpleds.com; call (800) 421-6815; or go to www.ddpleds.com.

About DDP
Established in 1970, DDP provides unmatched service and attention to customers in the
form of engineering, innovative designs, LED prototypes, test and evaluation, and
tailored LED solutions for specific indication and illumination applications. Located in El Segundo, Calif., DDP's 45,000-square-foot manufacturing facility includes a flexible production line, a dedicated quality assurance department, surface-mount assembly equipment, a machine shop for prototyping and development, and an engineering lab for new product design and qualification. DDP is ISO 9001 certified, demonstrating its commitment to continuous improvement of products, processes, and responsiveness to
the needs of customers.

More from Cleaning Products & Equipment