LED Bar Lights target machine vision applications.
Press Release Summary: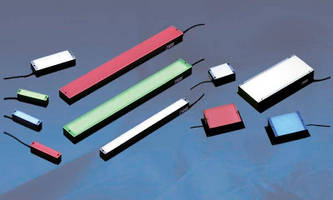 Available in 16 sizes with illuminated area dimensions ranging from 11-288 mm, IDBA-C Series offer positioning flexibility, enabling use for front lighting or as backlighting when configured with diffusing plates. IDBA-Q Series, available in 71, 110, and 157 mm² packages, combines 4 angle-adjustable bar lights into single mounting fixture. Each bar can be individually controlled, allowing several lighting combinations. Standard colors for both include red, white, blue, and green.
---
Original Press Release:

LED Bar Lights for Machine Vision at LDDLIGHT.com



The new IDBA-C Series LED Bar Lights from LDDLIGHT.com are one of the most versatile designs available to machine vision engineers. Their simple bar-shaped design offered in 16 sizes offers great positioning flexibility, enabling their use for front lighting (bright or dark field) or as backlighting when configured with diffusing plates (standard on some models). Unique IDBA-Q models combine 4 angle-adjustable bar lights into a single mounting fixture. Each of the bars in an IDBA-Q can be individually controlled, allowing several lighting combinations. Members of our Area Light Family, IDBA-Cs are offered in 68 standard size and wavelength configurations and IDBA-Qs in 16. IDBA-C and IDBA-Q models are used successfully in machine vision applications for code and character reading, edge detection, fill levels, pin counting and others.

Available with illuminated area dimensions ranging from 11 to 288 millimeters, IDBA-C standard models are available with red, white, blue or green LEDs. Standard IDBA-Qs are available in 71, 110 and 157 millimeter square packages with the same LED color choices. Additional wavelengths (IR, UV, RGB and yellow) and sizes may be custom ordered for both IDBA-C and IDBA-Q models. Optional diffusers to enhance lighting uniformity and optional polarizing plates to provide a means of controlling unwanted reflections are available for most models.

IDBAs deliver real customer value through their high build quality and competitive pricing. For part numbers and pricing, see the IDBA-C models and the IDBA-Q models pages at www.lddlight.com, or enter either "IDBA-C" or "IDBA-Q" into the site's search box.

About LDDLIGHT.com

LDDLIGHT.com offers an extensive lighting line. Detailed and graphical specifications assist you in choosing lighting techniques. Simple menus guide you through model choices and help you add the right light and accessories to your shopping cart. Enter your account information, select a shipping method, and use the encrypted checkout for fast, secure credit card purchases. Don't want to use a credit card? No problem, just enter your PO number and we'll invoice you. Products are quickly shipped, and backed by a 2 year warranty and "no questions" return policy.

LDDLIGHT.com is the domain of LDD Trading Associates, LLC.

LDD's headquarters are at 119B Emerson Road, Milford, NH 03055.

LDD can be reached at sales@lddlight.com, 603-732-0057 or FAX to 603-732-0058.

Greg Dwyer

LDDLIGHT.com

LDD Trading Associates

119B Emerson Rd.

Milford, NH, 03055

Phone: 603.732.0057

Mobile: 603.203.3099

greg.dwyer@lddlight.com

More from Fluid & Gas Flow Equipment