LED Backlighting suits variety of LCD display panels.
Press Release Summary: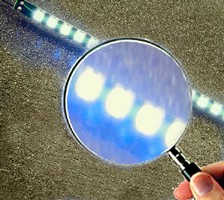 Suitable for heavy industrial applications, LED Backlighting solution was developed for panels ranging in size from 5-19 in. and requiring brightness levels of 800 nits or more. Since no heater is needed, LEDs can be turned on to full brightness immediately, which is beneficial in military systems used in extremely cold environments where immediate activation is critical. Product lifetimes range from 60,000-100,000 hr with little or no degradation.
---
Original Press Release:

CI Lumen Enhances LCD Brightness with Low-Power LED Backlighting



Patent-pending Technology Expands Low Power Hi-Brighting Technology to a Wider Variety of LCD Panels than Traditional Methods...

DECEMBER 4, 2006 - Hauppauge, N.Y. - CI Lumen Industries, a leading provider of enhancements and retrofitting for flat panel LCD solutions, now offers a patent-pending LED backlighting solution for a variety of display panels. CI Lumen's LED backlighting technology successfully addresses engineers' concerns for power consumption and heat relevant elevated brightness levels and may be applied to LCD panels produced by virtually any manufacturer. In addition to the advantages of LED backlighting for sunlight readability applications, the solid-state nature of LEDs also makes them more suitable to harsh environmental conditions, such as extreme cold, shock and vibration. These advantages, together with increased reliability and longer lifetimes, make them particularly well suited for military and heavy industrial applications.

CI Lumen's light emitting diode (LED) backlighting solution was developed for hi-bright panels requiring brightness levels of 800 nits or more - a requirement for outdoor viewing, in particular. CI Lumen's proprietary solution is well suited for panels produced by a broad spectrum of manufacturers, ranging in size from five to 19 inches and hibrighted to 800 to 1300 nits at industry leading low power levels. For example, a typical 15-inch panel retrofitted with CI Lumen's LED backlighting technology at 1000 nits would consume only 24W of power, while a solution using cold cathode fluorescent lamps (CCFLs) of equivalent brightness would require 65W. CI Lumen's LED backlighting technology operating at these reduced power levels can be employed while successfully maintaining thermal levels comparable to the original specifications of original equipment manufacturer (OEM) panels.

"The ability to increase brightness without adding power or increasing the need for thermal management makes LED backlighting an optimal solution for countless applications," said James Hoffman, Chief Technology Officer of CI Lumen. "Furthermore, our patent-pending system employs a number of techniques that result in even more effective thermal management and power reduction than other solutions. And, with our industry-leading optical bonding technology, we can offer hybrid solutions that further meet the specific needs of individual applications, such as outdoor signage, aircraft cockpit and construction site displays."

In addition to the primary advantages of power consumption and maintenance of thermal properties, LED backlighting creates a number of advantageous side effects. Because LEDs do not require an inverter, EMI emissions can be reduced. Additionally, no heater is needed as with CCFLs so LEDs can be turned on to full brightness immediately. This can be particularly beneficial in harsh environment applications, such as military systems used in extremely cold environments where immediate activation can be critical. Additionally, LEDs offer environmental advantages, such as simpler RoHS compliance.

The improved ruggedness of LED backlighting versus traditional CCFL methodology results in a significant increase in reliability and product life. Because a solid state LED is inherently less fragile than a glass tube filled with pressurized gasses, shock and vibration test results demonstrate improvements of greater than an order of magnitude. Life testing at equivalent brightness levels has produced similar and improved results with common product lifetimes of 60,000 to 100,000 hours with little or no degradation. Even at end-of-life, the wear out mechanism is non catastrophic, such as a single lamp in an array failing as opposed to loss of the entire backlight function with a CCFL solution.

In addition to LED backlighting technology, CI Lumen offers a complete range of LCD enhancement services to help an OEM improve the breadth of its product offerings while meeting required time to market goals for any LCD project, whether it includes optical bonding, touch screens, passive films, controller cards, inverters, custom enclosures or complete integration. The company's full service and active applications engineering staff is available to assist with a project from start to finish, including assistance and recommendations for LCD panel selection, such as guidance regarding the trade offs of a wide selection of available enhancements. CI Lumen also has thorough optical testing capabilities, including spectral analysis, chromaticity, reflectance and diffuse reflectance, and NVIS compatibility.

CI Lumen offers a "24 Hour Quick Quote" service with competitive industry pricing. For more information, visit CI Lumen at www.ci-lumen.com.

ABOUT CI LUMEN
CI Lumen Industries is a member of the CI Group of companies. The company offers a variety of products and services including optical bonding, LED backlights, touch screen integration, passive film enhancements and active backlight upgrades each aimed at advancing the overall visual experience of display solutions. With a full-service and active applications engineering staff and nearly 20,000 square feet of manufacturing space, including superior Class 1000 clean room space, the company offers the flexibility to offer any display enhancement service from prototyping to high-volume production. CI Lumen is SDB Certified and HUBZone Certified by the SBA, and is a sustaining member of the Society for Information Display (SID).

For More Information Contact:
Paul Kline
CI Displays
631-435-2255
pkline@cidisplays.com

More from Thermal & Heating Equipment