Lectro Introduces PET Wide Mouth Trimmer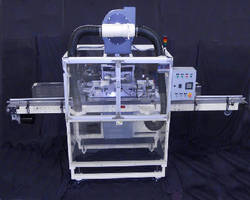 Lectro Engineering's MTM division has designed a system capable of trimming the widest-mouth blown finished PET bottle in production. This revolutionary trimmer will allow manufacturers the ability to trim virtually any size neck container. There are no tooling costs regardless of the container size and changeovers are quick and easy.
The MTM 740E can trim an 83mm neck at speeds up to 275 containers per minute and is suitable for bottles made of any resin. The cost of the unit is a fraction of comparable machines and is unmatched in its design, construction and eye toward safety.

For more information you can contact us at: Lectro Engineering 1643 Lotsie St. Louis, MO 63132. By phone at 314-567-3100 or fax at 314-567-3466 or visit our website at www.lectrotreat.com.

More from Machinery & Machining Tools