Learn How Lightweight DE-STA-CO Tooling Can Boost Injection Molding Productivity at NPE2015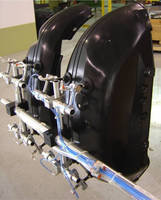 Auburn Hills, Mich.  – Automation can greatly increase the productivity of a plastic injection molding system, but few machine builders share the same needs. That's why DE-STACO, a global leader in automation equipment, is showing a variety of automation tools and custom solutions at NPE2015. The event takes place March 23-27 at the Orange County Convention Center in Orlando, Fla. Plastics processors can see end effector demos and other innovative products in DE-STA-CO booth #S10088 on the South Hall's first level.



"DE-STA-CO offers a diverse line of automation equipment built for speed and precision," says Rob Pitera, DE-STA-CO global product director, end effectors. "Our goal is to find the right combination of products for our customers, so they can build custom setups that maximize efficiency and resources. No matter what industry the customer operates in, from plastic packaging to automotive and beyond, DE-STA-CO has the right tools for the application." The DE-STA-CO booth will feature a series of end effectors built with Accelerate® Collection and MicroTooling lightweight components. Accelerate Collection parts are made with highstrength aircraft aluminum, which means they are up to 50 percent lighter than traditional steel parts. This allows users to increase production line speed without stressing other automation equipment.



DE-STA-CO's MicroTooling line features the same weight-saving benefits, but its parts are specifically sized for the plastic injection molding market. MicroTooling products are compact, modular and flexible, enabling users to build off of any two-axis or robotic automation equipment. MicroTooling and Accelerate Collection components can be combined to create lightweight end effectors for nearly any size need.



In addition to MicroTooling and Accelerate Collection end effectors, the DE-STA-CO booth at NPE2015 will include vacuum cup and tool changer demos. Robohand grippers, slides and rotaries, as well as CAMCO indexers will also be on display. DE-STA-CO product experts will be available to discuss custom tooling.



To learn more about how automation can improve your plastic injection mold operations, stop by DE-STA-CO booth #S10088 at NPE2015, visit destaco.com, or call (888) DESTACO (888-337-8226) www.destaco.com



Precisely positioning our customers for productivity



691 N Squirrel Road

Suite 250

Auburn Hills, MI 48326

Phone:  1.248.836.6750

1.888.DESTACO

Fax:  1.248.836.6743

1.800.682.9686

Email:  customerservice@destaco.com



DE-STA-CO is also active on Facebook, facebook.com/destaco and Twitter, @destacochat.



About DE-STA-CO

DE-STA-CO is a global automation and workholding company that has provided productivity solutions to the manufacturing industry since 1915. Quality, innovation and service have made DE-STA-CO a leader in the design and manufacture of cost-reducing, flexible automation solutions for industrial customers around the world. The company is committed to the Team DE-STA-CO philosophy, a progressive approach to doing business that focuses on providing consistent, standard-setting service and products to every customer, regardless of geographic location.

More from Construction Equipment and Supplies