Leak Test Vacuum Systems have ASTM-compliant chambers.
Press Release Summary: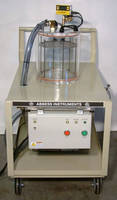 Offered as front- or top-loading Acrylic Cylinder or Cube with or without aluminum frame and/or base, high-visibility vacuum systems include ASTM-compliant leak test chambers. Automatic control, data logging, and altitude Climb and Dive profiling to 100,000 ft are optional. Also, chambers for dry or wet leak testing are available. Basic system can be controlled manually, and Vacuum Cycle Controller can be added to automate vacuum/hold/vent control functions as well as vacuum monitoring.
---
Original Press Release:

High-Visibility Leak Test Vacuum Systems



Abbess Systems' line of high-visibility vacuum systems now includes leak test chambers compliant with ASTM standards. Useful in the packaging industry, amongst others, each is a front or top-loading Acrylic Cylinder or Cube with or without an aluminum frame and/or base.

Optional features include automatic control; data-logging; and altitude "Climb & Dive" profiling to 100,000'. Chambers for dry or wet (bubble) leak testing are available.

While the most basic system can be controlled manually, a Vacuum Cycle Controller (VCC) can be added to automate a) vacuum/hold/vent control functions, and b) vacuum monitoring. Control may be either via panel-mounted buttons and indicators or via a PC with GUI. The basic digital VCC will permit a single automated cycle (i.e. single altitude/vacuum set point, and single hold time) whereas full altitude profile simulation functionality can be built in to the PC Touch Screen VCC upgrade option. A PC Touch Screen Package upgrade is required to automate multiple (preprogrammed) cycles (thermal and/or vacuum) of identical or disimilar profiles.

Abbess Instruments makes vacuum chamber systems with optional easy-to-use process control and data-logging resulting in improved test/processing quality and time. Our customers are small to large organizations with low vacuum degassing through to high vacuum space simulation applications.

Abbess Instruments and Systems Inc.
70 Bartzak Drive, Holliston, MA 01746
508 881 8811
www.abbess.com

Margaret Bishop, PhD
Abbess Instruments
70 Bartzak Drive
Holliston MA 01746

T (508) 881 8811
F (508) 881 4884
mb@abbess.com
www.abbess.com

Related