Gas and Chemical Sensors / Detectors
Leak Detector is suited for gas-fired condensing furnaces.
Press Release Summary: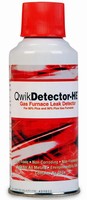 Developed for HVAC trade as 3 oz aerosolized can with 4 in. long nozzle extension, QwikDectector-HE(TM) can save lives by early detection of leaks due to defects caused by corrosion, expansion/contraction cracks, or manufacturer error that exposes occupants to CO. It penetrates heat exchanger fissure as small as 24/1,000 in. after one 5 sec spray into drilled 1/8 in. furnace plenum hole. Unit pinpoints openings within heat exchanger whether or not they are leaking at time of test.
---
Original Press Release:

Save Lives, Increase Profits with HVAC's Best Furnace Heat Exchanger CO Detector



Monday, August 13, 2007

Originally developed for the U.S. Air Force, QwikDectector-HE(TM) is industry's most reliable, accurate and cleanest furnace heat exchanger defect finder.

Mainstream Engineering, Rockledge. Fla., a leading manufacturer of HVAC/R aftermarket service/maintenance products, introduces the industry's most reliable, accurate and cleanest heat exchanger leak detection method, the QwikDetector-HE(TM) for all brands of high-efficiency gas-fired condensing furnaces.

Originally invented for U.S. Air Force fighter jets, the QwikDetector-HE has been redeveloped for the HVAC trade as a three-ounce aerosolized can with a four-inch-long nozzle extension and easy-to-follow, 12-step illustrated procedure guide.

The QwikDetector-HE can potentially save lives by early detection of heat exchanger leaks due to defects caused by corrosion, expansion/contraction cracks, or manufacturer error, all which can expose house occupants to carbon monoxide (CO) poisoning. For service contractors, early detection can potentially increase business with heat exchanger or furnace replacement.

The QwikDetector-HE's patented formula is designed to penetrate a heat exchanger fissure as small as 24/1000-inch after only one five-second spray into a drilled 1/8-inch furnace plenum hole. A conventional electronic refrigerant sniffer used at the furnace exhaust point will accurately determine whether the heat exchanger is breached by detecting the QwikDetector-HE's sensitive ether-based chemical blend. The process requires five minutes of preparation/execution time. Each container provides six applications.

The QwikDetector-HE is a cleaner, less-polluting heat exchanger leak detection method than smoke bomb methodology. The QwikDetector-HE is also more accurate than CO sniffers because it can pinpoint openings within a heat exchanger whether or not they are leaking at the time of the test. Pressure within the combustion chamber commonly causes openings to leak intermittently and can therefore trick CO sniffers. The QwikDetector-HE is available at all Johnstone Supply locations and Long Item Development (LID) group members.

About Mainstream Engineering: Mainstream Engineering is a solutions-oriented research and development company that markets its new product discoveries to the HVAC/R field. Mainstream is currently designing a "Gravity Insensitive Heat Pump" for the thermal control system of NASA's future Lunar Outpost and the next-generation crew exploration vehicle-The Orion. Mainstream manufactured the first refrigeration compressor to fly in space on the International Space Station. For more information on Mainstream Engineering and its HVAC/R division products, please contact (321) 631-3550 or visit www.mainstream-engr.com.

Contact: Ross Soyka - dir. of mrktg.
Mainstream Engineering
(321) 631-3550
rsoyka@mainstream-engr.com

More from Computer Hardware & Peripherals