Leading Plastics Recycling Companies Use Fimic Screen Changers from ADG Solutions to Reclaim Contaminated Scrap Considered Too Difficult to Process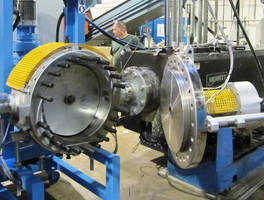 For ABC Polymers and KW Plastics, the Self-Cleaning Plastics Recycling System Opened the Door to New Types of Raw Material while Avoiding Downtime and Operator Intervention for Filter Cleaning

FAIRFIELD, CT, U.S.A., October 18, 2011: Two companies specializing in recycling plastic waste have discovered a way to process highly contaminated scrap without substantial losses in economy and productivity, it was announced today by ADG Solutions.

ABC Polymers, Inc. (Stone Mountain, GA) and KW Plastics (Troy, AL) have reduced downtime by 30% following installation of the Fimic continuous self-cleaning screen changer, supplied by ADG Solutions. The companies can now run new types of raw material that previously could not be processed because of their high level of contaminants particularly paper and paperboard, which required constant operator intervention.

Mounted at the end of a reprocessing extruder, a screen changer filters out contaminants from molten plastic before it is pelletized. "Standard slide-plate screen changers are ineffective with high contaminant levels because of the labor involved in continuously changing screens," said ADG president Sandy Guthrie. "Also ineffective, especially with paper and cardboard contaminants, are backflush-type filters, because the contaminant blinds the screen and causes the system to be in a perpetual backflush mode, with huge volumes of material wasted in the purge."

ADG is the exclusive North American importer of the patented Fimic continuous screen changer, built in Italy by Fimic Officine Meccaniche SAS. For both ABC Polymers and KW Plastics, ADG Solutions also supplied Davis Standard's Ram Stuffer reclaim extrusion systems (ADG is the exclusive North American distributor for Davis Standard's reclaim and compounding systems) and worked with them to design the installations.

ABC Polymers: Fimic System Saved 25 to 30% on Raw Material Cost

Based near Atlanta, ABC Polymers has been recycling plastics scrap since 1974 and recycles more than 250-million pounds annually, with customers throughout the Americas and in Asia.

In a reprocessing line with the Fimic plastics recycling equipment system installed, ABC runs chiefly low- and linear low-density polyethylene (PE), though it has also used the line to recycle polypropylene (PP) and polystyrene (PS). Typically the source material is stretch wrap, bubble wrap, and foam used for packing and shipping. Contaminants, up to 3%, may consist of labels, paperboard, and plastics such as nylon cords or PET strands, whose higher melt temperatures result in filter-clogging "unmelts."

"Previously it was not economical to run this type of material, given the need to wash and dry it before processing, clean away buildup from a conventional screen changer every few minutes, and lose a significant amount of good material with every purging," said Jeramy Daniels, president of ABC Polymers. "The Fimic system has reduced our total cost for using the material by 25 to 30%"

KW Plastics: Fimic System 'Opened a Door to New Source Materials'

Founded in 1981, KW Plastics is a leading recycler of post-consumer and post-industrial plastics and the largest producer of custom-engineered compounds based on recycled PP copolymer, with plants in Troy, Alabama and Bakersfield, California. Applications for its injection molding compounds include automotive components, batteries, containers, and industrial caster wheels.

In four reprocessing lines with the Fimic plastic recycling equipment system installed, KW Plastics runs primarily PP scrap, including rigid parts, woven and nonwoven fabrics, fibers, and film. Typical contaminants are labels, paper, cardboard, and non-PP unmelts, such as nylon and PET.

"We wash all materials before processing them, but some materials are virtually impossible to get clean enough for conventional screen changers," said company co-owner Kenneth Campbell. "The Fimic system has opened the door to new source materials for us. The beauty part of the system is that it has a huge 24-in.diameter screen and its operation is completely automatic."

How the Fimic Plastics Recycling Equipment System Works

The Fimic screen changer can handle scrap with up to 3% loadings of contaminants without a slowdown or stoppage of the process, and even contaminants close to an inch in diameter do not pose a problem, according to ADG's Sandy Guthrie. "The self-cleaning action is very efficient, with purgings averaging less than 2.5 lb. per cleaning cycle and minimal discharge of good material along with contaminants."

The self-cleaning cycles are subject to automatic PLC control. In each cycle, as molten polymer enters the screen changer, contaminant accumulates on the screen plate, which is a stainless steel component. The buildup continues until back pressure reaches a preset level. This actuates a rotating blade which sweeps the screen and purges the contaminant through a central discharge port. Typically the screen does not need to be touched or changed more often than every week or two, depending on the material being processed.

ADG SOLUTIONS, a plastic recycling equipment supplier, is headquartered at 3022 Burr Street, Fairfield, CT 06824. Tel: 1-203-255-9444. Fax: 1-203-256-9044. Email: sandy@adgs.net. Visit www.adgs.net.


More from Cleaning Products & Equipment