Lead Tinning System reconditions fine-pitch QFPs.
Press Release Summary: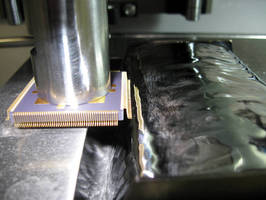 Able to recondition QFP and FP component leads for Hi-Rel and/or RoHS applications, LTS-QFP programmable, automated machine provides controlled, calculated flux volume and dwell time for each part. It incorporates robotic part handling device that picks QFPs from loading platform with vacuum head. Components are inspected at camera station, while flux is applied to necessary leads. Unit includes 1 solder pot that removes gold and 1 that applies final coating of solder.
---
Original Press Release:

ACE Intros LTS-QFP System for Lead Tinning of Fine Pitch QFPs



Spokane Valley, Washington, USA - Fine pitch Quad Flat Pack (QFP) components can be troublesome to tin after burn-in because their lead pitch is so fine that bridging is a constant concern. However, gold on the leads must be removed, and the leads subsequently tinned to make them suitable for assembly.

ACE Production Technologies, Inc. has added a new version to its popular LTS200 Lead Tinning System. The LTS-QFP is a programmable, automated machine that safely reconditions QFP and FP component leads for Hi-Rel and/or, RoHS applications. The LTS-QFP incorporates a special robotic part handling device that picks QFPs from a loading platform with a precision vacuum head. The component is inspected for location at a camera inspection station. Flux is applied to only the leads. There are 2 solder pots, each with a very unique solder wave feature that eliminates bridging even on ultra fine pitch QFPs. The first solder pot removes the gold while the second solder pot applies the final coating of virgin solder.

According to Al Cable, President, "The success of the QFP tinning operation is the result of a combination of factors that include the special configuration of the wave, the angle, speed and insertion characteristics of the row of leads as presented to the wave, and the use of a minimal inert blanket to enhance wetting." The operation takes no more than a few seconds, and includes removal of gold from the leads as well as tinning the part to make it assembly-ready. Correct flux volume and dwell time for each part are strictly controlled and calculated for optimum results. A video of the process is available for viewing at www.ace-protech.com.

The standard LTS200 is used for conventional lead tinning for Hi-Rel applications, or for re-conditioning tin-lead parts for RoHS compliance. It is especially in demand among military and hi-rel assemblers who generally have difficulty acquiring high-reliability tin-lead parts.

The LTS200, with its variety of tooling and fixtures, can be programmed to handle all leaded parts, including: transistors, capacitors, diodes, axials, radials, Pin Grid Array, sips, dips, connectors, and more. With the LTS200, it is easy to create and add programmable routines such as "agitate in the solder" to help remove the original coating. The operator can specify and control "withdrawal rate" from the final solder bath to increase solder thickness.

About ACE Production Technologies

ACE Production Technologies is a designer and builder of simple, affordable selective soldering systems suitable for lead-free electronics assembly. ACE's line of rugged, reliable selective soldering systems includes the KISS 101, KISS-102, KISS-103, and the KISS-104 models. All of these flexible systems feature lead-free compatible solder pots and are ideal for low to medium volume assembly, prototyping, and rework, post-reflow offline assembly, and other soldering applications such as odd-form devices. For more information about A.C.E., including sales and technical, contact ACE Production Technologies, INC., 3010 N., 1st Street, Spokane Valley, WA 99216; Tel. 509-924-4898, e-mail sales@ace-protech.com; www.ace-protech.com.

More from Electrical Equipment & Systems