Lead-Free Tactile Switches meet RoHS directive.
Press Release Summary: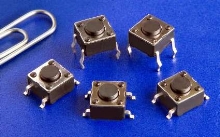 Series HP features 6 mm through-hole and surface-mount switches with insert-molded terminals to lock out flux, solvents, and other contaminants. Circuit is normally-open, SPST OFF, momentary ON. Measuring .244 in. square, body is molded in heat-resistant resin, which meets lead-free solder processing requirements and has UL flammability rating of 94V-0. Switches are available with silver contacts rated at 3 Va max dc or gold contacts rated at 28 V ac/dc max.
---
Original Press Release:

The Eco-Friendly HP Series


NKK Switches' New Tactile Devices Specifically Designed to Meet RoHS Directive

Scottsdale, Ariz. (May 10, 2005) - NKK Switches, an industry leader in the design and manufacture of electromechanical switches, continues to expand its product offerings with the introduction of the new HP Series of 6mm eco-friendly tactile switches.

The HP Series was designed specifically to meet the RoHS directive, which restricts the use of hazardous substances such as lead and cadmium. This environmentally friendly series of through-hole and surface mount tactile devices, features lead-free construction in the switches themselves and the packaging materials also meet all RoHS requirements.

The circuit is normally open, SPST OFF, momentary ON. The body is .244" (6.2mm) square, which allows for compact mounting for a keyboard matrix. The body of the HP Series is molded in a heat resistant resin which meets lead free solder processing requirements and has a UL flammability rating of 94V-0 and is black with a flat black button for actuation.

Contacts are available in gold or silver depending on design requirements. Silver contacts are rated at 3VA maximum DC and the gold contact devices are rated 28V AC/DC maximum. The gold contacts offer the advantage of little or no oxidation or sulfurization, and a stable contact resistance. Through-hole models have crimped terminals providing a spring type action to ensure secure mounting and prevent dislodging during automated soldering.

Surface mount devices feature gull wing terminals for mechanical stability during soldering and they deliver simplified solder joint inspection. Both through-hole and surface mount versions have insert-molded terminals to lock out flux, solvents and other contaminants.

The coplanarity for the HP surface mount option specifies that all considered surfaces must lie between two parallel planes that are a maximum distance apart of .0039" (0.1mm). Through-hole models are packaged 100 pieces per stick tube and the surface mount versions come on tape/reel with 1,000 pieces each.

A leading designer and producer of electromechanical switches, NKK Switches offers one of the industry's most extensive selections of illuminated, process-sealed, miniature, specialty and surface mount switches. The company manufactures more than four million toggle, rocker, pushbutton, slide, rotary and DIP rotary, keypad and keylock switches. NKK Switches maintains a complete network of qualified representatives and distributors through the United States, Canada, Central and South America, Europe, and Asia.

NKK Switches is keenly aware of the myriad of issues that are covered under the RoHS directive. With more than 50 years of experience in the switch industry and as an environmentally-conscious company, NKK is committed to not only providing high quality products and services, but also providing environmentally safe products for its valued customers. NKK continues to lead the industry in responding to the needs of the marketplace with innovation, high reliability and a commitment to excellence.

For more information, contact NKK Switches, 7850 E. Gelding Dr., Scottsdale, AZ 85260. Phone 480-991-0942. Fax 480-998-1435. Or visit the NKK Switches website at www.nkkswitches.com.


More from Fluid & Gas Flow Equipment