Lead-Free Solder Paste withstands extreme climate changes.
Press Release Summary: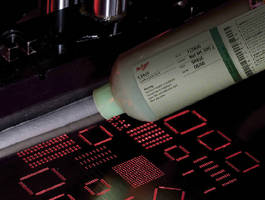 Suited for handheld and automotive sectors, Multicore LF620 ensures consistent print performance with minimal hot slump, even in regions with temperatures of 86°F or more and RH upwards of 80%. No-clean, halide-free formula exhibits low voiding in CSP via-in-pad joints and optimal solderability over range of surface finishes including Ni/Au, Immersion Sn, Immersion Ag, and OSP copper. Paste offers abandon time of 4 hr and print work-life up to 24 hr with no degradation in print quality.
---
Original Press Release:

Henkel's Multicore LF620 Lead-Free Solder Paste Sets the New Benchmark for the Lead-Free Era



Never content to rest on the laurels of its proven lead-free success, Henkel has developed and launched Multicore LF620: a new lead-free solder paste that effectively delivers on a broad range of demanding requirements, essentially offering a lead-free paste that has it all.

This latest product from the global materials leader is a no-clean, halide-free, Pb-free solder paste that has a broad process window for printing, reflow and humidity resistance. In fact, the rigorous engineering at the foundation of Multicore LF620 ensures its consistent print performance with minimal hot slump even in regions with temperatures of 30°C (86°F) or more and relative humidity (RH) upwards of 80%. This makes Multicore LF620 well-suited for electronics firms that wish to use a single material for their worldwide operations, as its performance is unfailing regardless of extreme climate changes.

Formulated with a new activator chemistry, Multicore LF620 exhibits extremely low voiding in CSP via-in-pad joints, good coalescence and excellent solderability over a wide range of surface finishes including Ni/Au, Immersion Sn, Immersion Ag and OSP copper. In addition, the material's versatility delivers outstanding printability at low or high speeds, with brick-like print definition, yielding vast improvements in throughput while also ensuring consistency of print deposits.

"The capabilities of Multicore LF620 make it the ideal choice for manufacturers of today's highly miniaturized devices," explains Dr. Mark Currie, Henkel Global Product Manager. "For multi-functional complexly populated boards and for smaller handheld devices that dictate finer-pitches (0.4mm and above), reduced board sizes and increased functionality, Multicore LF620 offers unmatched performance and processability."

In addition to the handheld market, Multicore LF620 is very well suited for the automotive sector, as the material has a wide reflow process window accommodated by its robust flux system. Process flexibility is also superb with Multicore LF620, which delivers a high tack force for component stability during high speed placement, an abandon time of four hours and a market-leading print work-life of up to 24 hours with no degradation in print quality.

"Though much of the electronics assembly industry has settled into current lead-free manufacturing processes, Henkel believes there is room for innovative improvement," concludes Currie. "Multicore LF620 clearly does this with a 'have your cake and eat it, too' scenario - this material does it all!"

For more information on Multicore LF620 or any of Henkel's leading solder materials, call 1-888-9Henkel or log onto www.henkel.com/electronics.

Except as otherwise noted, all marks used herewith are trademarks and/or registered trademarks of Henkel and/or its affiliates in the US and elsewhere.

About Henkel

Henkel has been committed to making people's lives easier, better and more beautiful for more than 130 years. A Fortune Global 500 and Germany's most admired company according to a recent Fortune survey, Henkel offers strong brands and technologies in three areas of competence: Home Care, Personal Care and Adhesive Technologies. Each day, about 50,000 employees worldwide are dedicated to fulfilling Henkel's claim "A Brand like a Friend". In fiscal 2009, Henkel generated sales of 13,573 million euros and adjusted operating profit of 1,364 million euros.


More from Materials