LDO Voltage Regulators support double data rate memory.
Press Release Summary: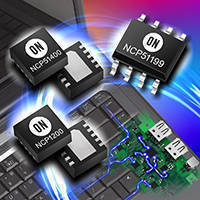 Featuring built-in power MOSFETs, Models NCP51200, NCP51400, NCP51510, and NCP51199 are suited for SDRAM DIMM memories, servers, routers, smartphones, tablets, STBs, and printers. Devices support DDR1, DDR2, DDR3, LPDDR3, DDR4, and LPDDR4 standards with termination voltages down to 500 mV. Operating from -40 to +125°C, each regulator is capable of actively sourcing and sinking full 2.0 A when used with DDR4 and LPDDR4. ICs also offer soft-start, on-chip thermal shutdown, and remote sensing.
---
Original Press Release:

ON Semiconductor Unveils Full Portfolio of Double Data Rate (DDR) Termination Regulators



Latest high performance integrated solutions deliver effective sourcing/sink current limiting and remote sensing functions for smartphone, consumer, computing and automotive applications



PHOENIX, Ariz. — ON Semiconductor (Nasdaq: ON), driving energy efficiency innovations, has further strengthened its low drop-out (LDO) linear voltage regulator portfolio with the introduction a series of new high performance devices to support double data rate (DDR) memory. The NCP51200, NCP51400, NCP51510, and NCP51199 feature built in Power MOSFETS and are targeted at a wide variety of applications in the computing, data networking, industrial and handheld consumer markets for specific applications such as SDRAM DIMM memories, servers, routers, smartphones, tablet computer platforms, set top boxes, smart TVs, printers, and PC/laptop motherboards. AEC-Q100 qualified versions are also available for automotive applications including embedded GPS mapping systems, Infotainment, and Wifi and Bluetooth communications.



These high performance LDOs support DDR1, DDR2, DDR3, LPDDR3, DDR4 and LPDDR4 standards with termination voltages (VTT) down to 500 millivolts (mV).  Each is capable of actively sourcing and sinking a full 2.0 amps (A) when used with DDR4 and LPDDR4.  Additionally, the NCP51145 can support up to 1.2A when used with DDR4 and LPDDR4. The NCP/NCV51199 can source and sink 2.0 A and 1.5 A currents for DDR2 and DDR3 respectively, while the NCP51200 and NCP51510 are specified for 3 A peak current operation and support remote sensing. These highly integrated DDR termination LDOs also benefit from soft-start, on-chip thermal shutdown and (for some devices) under-voltage lockout mechanisms. Each device has a high-speed differential amplifier which provides ultra-fast response to both line voltage and load current transients.  All of these devices are also compatible with DDR1 and DDR2 allowing for easy upgrades to newer DDR memory.  A temperature range of -40 °C to +125 °C is specified, with an extended temperature range of +150 °C offered for automotive versions.



"There has been a broad expansion of DDR memory into many non-traditional products as connectivity and the Internet of Things (IoT) force increased data communication," said Simon Keeton, vice president Integrated Circuit Products at ON Semiconductor.  "We now offer a comprehensive portfolio of game-changing devices for the entire DDR market that are suitable for new design projects, as well as serving as drop-in replacements for existing devices; but with the higher degree of performance to allow for future memory upgrades. The NCP51400 and NCP51510 are highly advanced ICs with the capability to support next generation DDR technologies as they arrive, while the NCP51145 combines superior performance with attractive price points.  Furthermore, we have automotive qualified (AEC-Q100) versions to enable the latest Infotainment and Safety Systems to keep pace with the data demands new car customers expect."



Packaging and Pricing

Within the expanded family of 15 NCP51xxx LDO solutions are three different package offerings including an 8-pin SOIC-EP, an 8-pin 2x2 mm DFN, and a 10-pin 3x3 mm DFN package. Prices range from $0.07 to $0.195 per unit in 3,000 unit volumes.



About ON Semiconductor

ON Semiconductor (Nasdaq: ON) is driving energy efficient innovations, empowering customers to reduce global energy use. The company is a leading supplier of semiconductor-based solutions, offering a comprehensive portfolio of energy efficient power and signal management, logic, standard and custom devices. The company's products help engineers solve their unique design challenges in automotive, communications, computing, consumer, industrial, medical and military/aerospace applications. ON Semiconductor operates a responsive, reliable, world-class supply chain and quality program, and a network of manufacturing facilities, sales offices and design centers in key markets throughout North America, Europe, and the Asia Pacific regions. For more information, visit http://www.onsemi.com.



Follow @onsemi on Twitter.



ON Semiconductor and the ON Semiconductor logo are registered trademarks of Semiconductor Components Industries, LLC. All other brand and product names appearing in this document are registered trademarks or trademarks of their respective holders. Although the company references its Web site in this news release, such information on the Web site is not to be incorporated herein.



Sarah Rockey

Media Relations

ON Semiconductor                 

(602) 244-5910

Sarah.Rockey@onsemi.com

More from Sensors, Monitors & Transducers