LDO Controller drives digital ICs.
Press Release Summary: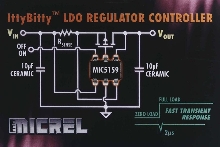 MIC5159 low dropout regulator controller drives low-voltage DSPs, microcontrollers, and logic ICs. Available in IttyBitty(TM) SOT-23-6 package, it requires very little headroom to provide well-regulated supply of 1.5, 1.8, or 2.5 V. Device's headroom, or dropout voltage, is limited only by R
DS(ON)
of external MOSFET. It has fast transient response, good regulation over variation of line, load, and temperature, and user programmable current limit.
---
Original Press Release:

New LDO Controller Powers Latest Generation of Low Voltage, High Current DSPs, MCUs & Logic Devices


- Very little headroom needed for well-regulated supply of 1.5V, 1.8V, or 2.5V
- Available in the IttyBitty(TM) SOT-23-6 Package

SAN JOSE, Calif. -- (June 19, 2002) - A low-dropout (LDO) regulator controller that drives the latest generation of low-voltage DSPs, microcontrollers and logic ICs has been developed by Micrel Semiconductor (NASDAQ: MCRL), an industry leader in power management and high-speed communication ICs.

With an external, inexpensive P-Channel MOSFET, the MIC5159 forms a two-chip ultra-low dropout regulator capable of providing a wide range of output currents. Designed to power high performance distributed power applications, this IttyBitty(TM) SOT-23-6 controller requires very little headroom to provide a well-regulated supply of 1.5V, 1.8V, or 2.5V for today's digital ICs. The device's headroom, or dropout voltage, is limited only by the RDS(ON) of the external MOSFET.

Additional features of the MIC5159 include fast transient response, superb regulation over variation of line, load, and temperature, and user programmable current limit. A member of Micrel's family of uCap LDOs, the MIC5159 requires only one ceramic output capacitor for stability.

"The MIC5159 LDO offers a small, low-cost solution for driving up to 10A loads. The versatility of the device enables it to serve many applications in a variety of computer and communication systems," said John McGinty, senior product marketing engineer.

When purchased in a quantity of 1,000, pricing for the MIC5159 starts at $1.70. Samples are available, and production quantities are stock to 8 weeks ARO.

Summary of Features & Applications:
MIC5159 LDO Controller

Features
- Fast transient response: recovers within 10us
- Fixed 1.5V, 1.8V, 2.5V, 3.0V, and adjustable outputs
- Ultra-low dropout: Iout x RDS(ON)
- Capable of driving up to 10A
- Wide input voltage range: 1.65V to 5.5V
- User-programmable current limit
- Stable with ceramic output capacitor
- Excellent line & load regulation
- Logic-enable input
- Junction temperature range: -40degC to +125degC
- IttyBitty(TM) SOT-23-6 package

Applications
- Computers
- Communications systems
- Graphics cards
- Distributed power supply
- Battery charger

Micrel Semiconductor is a leading manufacturer of advanced, high performance communications, clock management, Ethernet switch and physical layer transceiver, mixed signal, analog and power ICs. These products include devices for fiber-optic telecommunications and networking, cellular telephones, servers, portable computer systems, computer peripherals, process control systems, consumer electronics and power supplies.

IttyBitty is a trademark of Micrel Semiconductor

More from Machinery & Machining Tools