DC to DC Power Supplies (Converters)
LDD240-WU DIN Rail DC-DC Converter features multiple self-protection mechanisms.
Press Release Summary: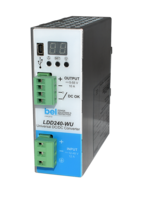 LDD240-WU DIN Rail DC-DC Converter is suitable for control panels, instrumentation, machine building and railway applications. Unit can convert DC voltage between 11 to 55 V to DC voltage between 5 and 55 V with 10mV resolution. This product uses digital power regulation which can deliver power of 240 W. Featuring hiccup mode limitation, converter's output voltage can be adjusted using front panel or Modbus over a USB interface.
---
Original Press Release:
Bel Power Solutions Introduces LDD240-WU a Revolutionary 240 W DC-DC DIN Rail Converter
Single, Flexible and Configurable "All-in-One" Unit Covers Multiple Applications
Bel Power Solutions and Protection, a Bel group company (NASDAQ: BELFA and BELFB) and premier global manufacturer of power management devices, introduces the LDD240-WU, a revolutionary DIN Rail DC-DC converter ideally suited to applications where flexibility, compactness and high reliability are required. It is fully isolated and highly efficient over a broad operating range of input and output voltages. In addition, its compact size and ease of installation make it ideal for most industrial applications, such as control panels, instrumentation, machine building and railway, and can complement or even replace existing models and families of DC-DC converters.
The LDD240-WU is a 240 W, 4.2 kV isolated DC-DC converter that can convert any DC voltage between 11 to 55 V to any DC voltage between 5 and 55 V, with 10mV resolution, using Digital Power regulation to give up to 240 W output (max 10 A). Existing converters are based on a fixed input and output voltage, which generates many individual models (for example: 24 Vin, 48 Vin, 5 Vout, 12 Vout and 24 Vout) that need to be individually qualified and stocked. With Bel Power's new LDD240, only one model needs to be qualified and stocked, resulting in a significant cost savings.
The output voltage setup can be done through the front panel, or through a Modbus over a USB interface (using either Windows or Android) for remote monitoring and control. Integrated ORing circuitry allow the units to be paralleled for power or redundancy. Multiple self-protection mechanisms and user-settable constant current or hiccup mode limitation is also a key feature.
The LDD240-WU is currently in stock with Digi-Key. For more detailed information, download the Bel Power Solutions LDD240-WU datasheet or visit belfuse.com/power-solutions. For technical inquiries, send an eMail to Tech.Support@psbel.com or call 866-513-2839.
About Bel
Bel (www.belfuse.com) designs, manufactures and markets a broad array of products that power, protect and connect electronic circuits. These products are primarily used in the networking, telecommunications, computing, military and aerospace, transportation and broadcasting industries. Bel's product groups include Magnetic Solutions (integrated connector modules, power transformers, power inductors and discrete components), Power Solutions and Protection (front-end, boardmount and industrial power products, module products and circuit protection) and Connectivity Solutions (expanded beam fiber optic, copper-based, RF and RJ connectors and cable assemblies). The Company operates facilities around the world.
More from Test & Measurement